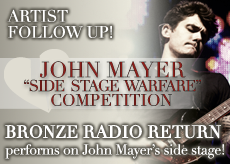 In June, OurStage partnered with John Mayer to sponsor the John Mayer Side Stage Warfare Competition, giving up-and-coming artists the opportunity to play side stage gigs on select dates of his Battle Studies Tour. Hartford natives Bronze Radio Return were selected by John Mayer and his team as winners of the Boston Channel and recently performed their set at the Comcast Center in Mansfield, MA. We sat down with the members of Bronze Radio Return prior to their performance to learn a little more about the band, their music, and their live show among other things.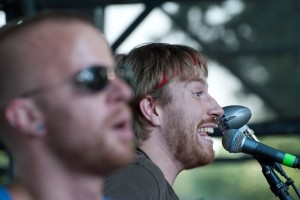 Listening to their songs, it's evident that the band does not easily fall into one genre of music. We asked the guys to fill us in on their  influences and how they define themselves. "We all come from pretty diverse musical backgrounds, describes lead singer Chris Henderson. We try to incorporate styles from blues, Americana and folk music all with kind of a modern indie rock type twist to things." Henderson added, "A lot of us grew up listening to old records from our parents record collections. I grew up listening to a lot of blues music at home, and there's something about the ambiance, the realness of a record that makes you feel like you're a part of the recording…we're attracted to that."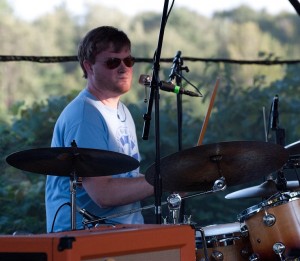 Since several band members have  jazz backgrounds, the genre finds its way into their live performances. "We really like to open up the live shows, get a lot of energy in there, feed off the crowd and get people moving, explains bass player Bob Tanen. We try to make it an experience not just like your hearing the record, you're seeing a full show."
Through their performance on the Battle Studies Tour, the band hopes to attract new followers. "We actually play in Boston quite a bit, but it's great to get out in front of a new crowd," commented drummer Rob Griffith. So that's what we're really hoping for today is to get some of these Mayer fans to check us out and come up to Boston to see us play." Tanen commented, "it's allowing us to be in front of a bunch of different bands that we might not have been in contact with. We do play in Boston so its great for these people to come out and get a chance to see us in a different venue. If they like John Mayer and then they end up seeing us, and we're somewhat musically associated, its not bad company. We're trying to do our own thing and I think it will be a great chance for us to really see a lot of new fans and a lot of new faces."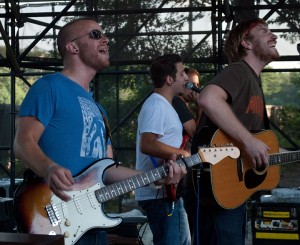 Bronze Radio Return, like many other up-and-coming bands, use online resources to promote their music and keep fans in the loop about upcoming shows. Lead guitarist Patrick Fetkowitz weighed in on the OurStage experience. "OurStage is really awesome because they provide an outlet for independent bands to put their music out there and let people hear it and let people discover something that they might not have heard through any other outlet. It really is an equal playing ground for all the bands, everyone is on the same level and everyone is trying to bring their music to the masses…so it's a really awesome environment."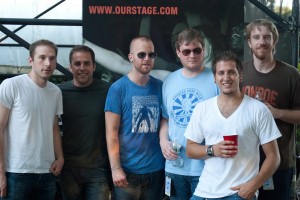 The band is currently touring the east coast, and has plans to begin recording their new record in the fall.  "We are getting material ready for a new record that we're cutting at the end of September. We recorded our last record in Nashville with a great young producer named Chad Copelin, and we're going to work with him again at his home studios in Oklahoma." You can check out their music and their OurStage profile here. You can also see a video of the band performing "It's OK Now" live from their side-stage performance in Mansfield below.