Within the upper echelon of heartland rock, at this late date, it all boils down to a crucial question: Springsteen or Petty? The third member of the Holy Trinity, Bob Seger, more or less took himself out of the game over the last couple of decades, while John Mellencamp's never really been much more than a dim reflection of the others to begin with, so at this juncture"with all the aforementioned Americana rockers having reached sexagenarian status"it's basically about Bruce and Tom.
Even the members of roots-rock royalty are only ever as good as their bands, be they E Street, Silver Bullet, or Heartbreakers, and there's no better measure of a great band's prowess than the mark they make in concert. So the ultimate proving ground in the recording realm becomes not the studio album but the live anthology. But we're not talking about your standard-issue live album here"both Petty and Springsteen have released those. No, a grand-scale summary of the concert repertoire is what's really required to take the artistic temperature of an act in this arena (pun only partially intended).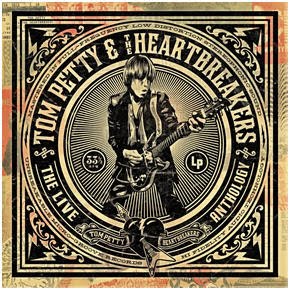 In this context, one might suggest that Springsteen made a crucial mistake by playing his hand too soon, releasing the three-disc box set Live/1975-85 in 1986, even though he couldn't have known how many subsequent years of concert triumphs he'd be excluding from the collection. But to call a spade a spade, Bruce's biggest blunder in our little imaginary competition was in valuing strength over subtlety. They don't call him The Boss for nothing"Springsteen's sound has always been about larger-than-life statements delivered with an almost Wagnerian grandeur. As he's the master of the mode, it's often thrilling, but it also precludes the possibilities inherent in a lower-key lean, especially live, and that's where The Heartbreakers come into the picture.
Where the inspirations for the E Street approach come from Phil Spector's Wall of Sound productions and Roy Orbison's pathos-ridden rock operettas, the comparatively laconic Petty and his Gainesville gang were modeled more after the supple, sinuous feel of the famed Southern soul sessionmen of Muscle Shoals, AL, the minimalist R&B grooves of Booker T. & The M.G.'s, and the laid-back country funk of J.J. Cale. Those are the roots The Heartbreakers bring to bear while breathing life into Petty's tunes, but while there's nary an ounce of flash or bombast to be found anywhere near a Tom Petty & The Heartbreakers concert, there's no shortage of soulful fire and pure rock & roll energy either. With characteristic caginess, Tom waited another quarter-century after Bruce to bring out his big live box set, simply dubbed The Live Anthology, released at the tail end of 2009. In its deluxe version, it took five CDs, two DVDs, a Blu-Ray disc, and a wealth of graphic-oriented extras to tell its tale of a band with three decades-plus of tasteful-but-torrid road-rocking behind them.