If anyone can do it, it would be the pop artist formerly known as Marky Mark. The task at hand: transforming Justin Bieber from Canadian teen-pop idol into Hollywood matinee idol
Mark Wahlberg already knows a thing or three about reinvention. When he first burst onto the entertainment scene in 1991 as the leader of Marky Mark and the Funky Bunk"a two-hit wonder from whom nobody expected any kind of longevity, and afterwards as a Calvin Klein underwear model"few probably thought he'd be likely to succeed past the mid-decade mark.
Yet two decades later, he's still here. He's a movie star and a respected actor, a successful producer (of the TV series Entourage and Boardwalk Empire, and of last year's Best Picture Oscar contender, The Fighter) and an Academy Award acting nominee (Best Supporting Actor for 2006's The Departed).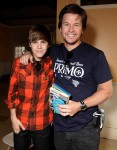 His next project: making Justin Bieber a film star. "I see the guy and spent time with him, and you see what he does and how he does it," Wahlberg told MTV News last year, "and then you actually have a conversation with him, and it's there."
Picture this (because Wahlberg already has): Bieber in a The Color of Money-type film, which Wahlberg is developing for Paramount Pictures, with basketball replacing pool. Bieber would take the Tom Cruise role, and Wahlberg would cast a formidable screen legend like Robert DeNiro, Robert Duvall or Jack Nicholson as the grizzled vet, the Color of Money archetype that finally won Paul Newman an Oscar in 1987.
It sounds like a dream job"for someone else. If Will Smith, Queen Latifah, Justin Timberlake, Tim McGraw and Wahlberg himself have taught us anything, when making the transition from music to movies, it's best to start small. Both Britney Spears and Christina Aguilera tried to fulfill their film-star fantasy by starring above the title the first time out (in Crossroads and Burlesque, respectively), and thus far, neither one's Hollywood dream has come true.
Enimen has yet to find a follow-up worthy of his debut starring role in 2002's 8 Mile; the Hollywood heat surrounding The Bodyguard star Whitney Houston, set to test the acting waters again in a 2012 remake of Sparkle, quickly cooled after three films; Beyoncé has gotten plenty of acting work, but her Hollywood career has yet to generate any kind of major excitement; and Evita aside, Madonna has been most successful onscreen in supporting roles (Desperately Seeking Susan, Dick Tracy, A League of Their Own). Former American Idol contestant Jennifer Hudson won an Oscar her first time out for Dreamgirls, but what has she done for us lately?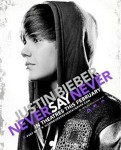 That Bieber's 2011 documentary/concert film, Never Say Never, was a major box-office success ($73 million in North America) indicates that movie-ticket buyers will shell out bucks to see him on the big screen. And he's already had a guest-starring role in C.S.I.: Crime Scene Investigation. But pop stars are always booking cameos and story arcs in hit TV shows, and in Never Say Never, Bieber was literally playing himself. If Wahlberg is going to guide him through the Hollywood jungle, he'd be wise to pull out the map that he himself used.
For now, let somebody else drive. Don't even let him ride shotgun just yet. Bieber would be better off in the backseat, cast in an ensemble movie where he doesn't have to do all of the heavy lifting (see Taylor Swift in Valentine's Day"on second thought, don't).
When Wahlberg landed his first major starring role, in 1997's Boogie Nights, he was directed by Paul Thomas Anderson (There Will Be Blood) and surrounded by highly esteemed talents like Julianne Moore, William H. Macy, Phillip Seymour Hoffman, Don Cheadle, John C. Reilly and a soon-to-be-briefly resurgent (and Oscar-nominated for the first time) Burt Reynolds.
Even after Boogie Nights, Wahlberg's most notable films"I Heart Huckabees, The Departed, The Fighter"have featured plenty of Oscar-caliber talent. And in The Departed, it was Wahlberg, not costars Leonardo DiCaprio, Matt Damon or Jack Nicholson who walked away with the Oscar nod.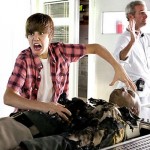 But Wahlberg seems to have other ideas for Bieber, whom he calls "really talented." And if he exhibits no discernible talent for film acting once the cameras roll? "I will extract it," Wahlberg said.
Good luck to them both. They'll need it. Wahlberg may have proven that he's a miracle worker by going from rapper to underwear hunk to Oscar nominee, but Bieber holding his own with a DeNiro or a Duvall or a Nicholson sounds like an almost-impossible dream.
10 Music Stars Who Deserve a Hollywood Big-Screen Test
1. Lady Gaga
Best Performance in a Video: "Paparazzi"
2. John Mayer
Best Performance in a Video: "Who Says"
3. Ke$ha
Best Performance in a Video: "Blow"
4. Mary J. Blige
Best Performance in a Video: "Be Without You"
5. Pink
Best Performance in a Video: "Glitter in the Air" (live at the 2010 GRAMMY Awards)
6. Duffy
Best Performance in a Video: "Warwick Avenue"
7. Fiona Apple
Best Performance in a Video: "Fast As You Can"
8. Richard Ashcroft
Best Performance in a Video: "Break the Night with Colour"
9. Roisin Murphy
Best Performance in a Video: "Overpowered"
10. Brandon Flowers
Best Performance in a Video: The Killers' "All These Things That I've Done"