Celebrating their 20th anniversary as modern day rulers of old school funk, the seven-piece Brooklyn-based juggernaut Lettuce drops their third studio album Fly"a decidedly raging slab of relentless groove, hyper-charged syncopation, and psychedelicized soul anthems. Having blown up stages from coast to coast last year, ranging from The Fillmore in S.F. to Terminal 5 in N.Y.C., Bear Creek Music Festival to Camp Bisco and all points in-between, Lettuce entered Brooklyn recording studio The Bunker this winter with a fresh batch of road-tested material and a revitalized sound honed razor sharp by a year spent on the road.
I got the chance to catch up with drummer and main songwriter Adam Deitch last week to talk about the evolution of the band, and how his newfound place in the electronic music scene has influenced his funk and hip-hop roots. A few months ago, I spoke with Deitch and his Break Science partner Borahm Lee about emerging as live musicians in the EDM scene; what I found was a musician who clearly had immense respect for his funk and jam band beginnings, but was also very excited to work in a new style that presented a challenge. This time around, Deitch was on home court, fresh off a newly recorded Lettuce album (which you can pick up here), and about to embark on a supporting tour.

Do you get really ticked-off when that youngster in a souped-up Toyota comes rolling down the block and you can feel the ground shake long before you even see the headlights? So much bass being pumped from the car that you can see it dripping from the door hinges? If so, this edition of SoundTrax is not for you.
This is a driving playlist designed to make you groove and wiggle in your seat, not incite a Billy Joel sing-a-long.  So crank your bass knob to eleven, throw your car in gear and buckle up¦it's gonna be a bumpy ride.
"We Can Make The World Stop" by The Glitch Mob
Glitch Mob popularized the style of melodic, downtempo, glitchy (duh!) bass music that works so well for this soundtrack, and you'll hear their influence on a lot of the other songs. Let this track set the vibe for the playlist as you make your way to the open road.
"Defying Gravity" by Gramatik
Containing everything from horn samples, to bass-lines that would stump even the best upright players, Gramatik manages to merge jazz and swing sensibilities into a blisteringly bass heavy tune that is sure to get your head bobbing as you let your throttle open up on the highway.
"Groove Nasty" by Froland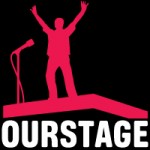 Picking up the speed a bit now, OurStage's Froland should get your blood pumping and senses tuned as you settle into the pace of traffic.