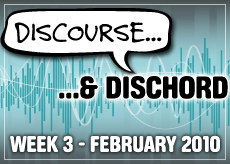 The Good
Gaga sweeps Brit Awards
Looking like Marie Antoinette in a wedding cake, Lady Gaga swept three categories at Tuesday's Brit Awards, picking up trophies for International Female Solo Artist, International Album and International Breakthrough Act. For her performance, the singer paid an emotional tribute to the late Alexander McQueen, donning the designer's lobster claw heels for an acoustic version of Telephone. Here's the video.
The Bad
EMI to sell Abbey Road Studios
Abbey Road Studios, a space that gave birth to albums by Pink Floyd, Radiohead and a little band known as the Beatles, may or may not have been put on the market. EMI, who has owned the studio since 1929, has declined to comment on the reported sale.
The Ugly
Mary J. Blige covers Stairway to Heaven
Forget the bustle in your hedgerow, here's something more alarming. R&B singer Mary J. Blige, Blink-182 drummer Travis Barker and guitar legend Steve Vai have joined forces to record a cover of Led Zeppelin's iconic hit, Stairway to Heaven. The superstar group has taken over Studio A at the Capitol Records building in Hollywood ¦ they'll either emerge with a genius remake, or an abomination that will leave Robert Plant yowling louder than he did on Immigrant Song.
Miscellany