PyInfamous, The nation's Coldest MC, Grand Prize winner of the Coors Light Search for The Coldest Competition,  recently rocked the mic at ESSENCE® Music Festival in New Orleans, LA.
While he was there, Py got the opportunity to do what he does best— represent the South, his home state of Mississippi, and dope hip-hop music in front of a crowd of fans and celebs alike. Combine all that with a little face time with hip-hop's elite, and you've got one hell of a Grand Prize experience.
We couldn't resist the urge to hit up Py for more details, so we recently caught up with him to get the low down on that event and more.
Aside from wowing OurStage fans and Coors judges alike, what exactly makes PyInfamous The Coldest MC? We'll leave that explanation to the man himself:
I think the fact that I keep my music true to my reality and the reality that a lot of people are facing. That's what a lot of music lacks. By combining substance with skill, I think I've been able to touch a certain part of people that a lot of the hip hop that is made now misses.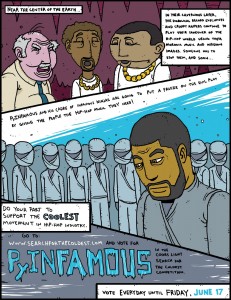 Throughout the final phase of the competition, it became obvious that Py's lyrical skills weren't the only thing helping him rack up votes. The MC rallied his fans the best way he knew how — creatively, filming sketches, drawing comics, and more. We asked him about his promotional master plan:
What we tried to do was develop some innovative, nontraditional methods to engage fans. We wanted to use social media but in a different manner, and the ultimate goal, and one I think we achieved, was to turn the contest over to the fans who then felt they had the power to pull out a win for hip-hop, for the South and for the state of Mississippi.
At the core of these efforts was the drive to land a performance at ESSENCE® Music Festival in New Orleans, an experience that placed PyInfamous in front of festival crowds. His verdict: (more…)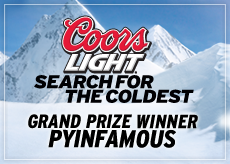 Thousands entered, four were selected, one prevailed.
In March, Coors Light and OurStage threw down the gauntlet for hip-hoppers nationwide to step up and claim the title of the nation's Coldest MC. To say that Mississippi native PyInfamous simply stepped up would be doing him a disservice.
Py submitted his song "Bliss (Cooler Than This)" in the Coors Light Search For the Coldest Competition South Channel and was selected as a finalist by the competition judges, including DJ Khaled, PacDiv and Bryan Michael Cox. The footage of his energetic opening performance for N.E.R.D. and PacDiv along with his relentless promotion helped him rack up over 45% of the votes in the final round to secure the title of "Coldest MC."
PyInfamous will perform on July 2nd in New Orleans during ESSENCE® Music Festival weekend and grab $10,000 in studio time. Stay tuned to the OurStage Magazine for our interview with PyInfamous and stop by his OurStage profile to show him some love. Check out his winning performance in Atlanta below.