Sure, there are hundreds of bands in New York, but how many of them do full-group live busking performances on subway platforms? Since their string of live street performances in New York, Freelance Whales have climbed their way to the top of the indie rock heap. Songs from their acclaimed first album Weathervanes have appeared in ads for Chevy and Twitter as well as on shows like One Tree Hill and Skins. As the band geared up to drop their follow-up record, Diluvia, which hits stores today, we chatted with Chuck Criss about recording in a rural space, the band's pre-order pocket planetarium, and the end of the world.
OS: You guys supposedly rented a house in upstate New York to write material for Diluvia. What was it like to work in that environment?
CC: It was amazing. The city has so many distractions, both good and bad.  It was nice to go somewhere isolated with no Internet or cell service. We would just buy groceries for the week, wake up in the morning and write music. The only breaks we would take were to cook food.  I think it really helped us focus. (more…)
This question probably crossed the minds of a few people early last week. If you happened to be visiting Boston's Public Gardens on September 1st you may have come across a certain singer-songwriter. No, no this wasn't that kid down the hall from you in your down sophomore year (he was busy serenading co-eds on the quad). It was none other than Bruce Springsteen himself.
Having borrowed a guitar from a street performer he had encountered earlier in the day, Springsteen briefly played in the park, much to the delight of anybody who happened to notice. This wasn't some publicity stunt or promo for an upcoming album. Springsteen was in town dropping his son off at Boston College and decided to kill some time in maybe the most awesome way that he could. Now, this isn't the first time that Springsteen has been caught performing on the street like this, but still! How cool is that!
Spotting a major musician in public is usually pretty boring. If you're in New York City or Los Angeles, you'll catch stars of all walks of life out and about all the time. Boring. Still, Bruce's little jam reminded us of some of our other favorite artist's most awesomely public moments.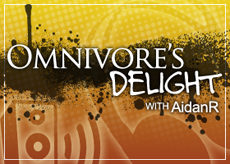 Sure as the overflowing soul in their nomadic tunes, The Haunted Windchimes are giving folk music yet another modern revitalization. These Colorado natives (and others like them) are steadily introducing young listeners all over the country to the nostalgia of folk music with a fresh twist, all while maintaining the same traditional roots themes and lyrics that have touched audiences for decades. Attribute it to the wide-open spaces and intimate spirit of the road, or to the band's contagious easygoing life style. Whatever the reason, there's no denying that Windchimes' reinvigorated sound is gaining momentum from coast to coast. Guitarist / vocalist Inaiah Lujan was kind enough to answer a few questions about The Haunted Windchimes' music, their philosophies on the West, true freedom and good vibrations. Check out what he has to say below!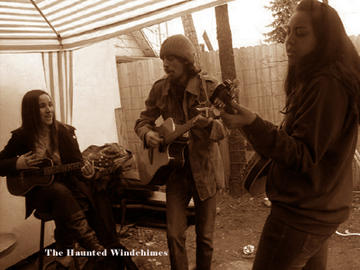 OS: How did the Haunted Windchimes come to be, and where did you come up with the idea for that fantastic name?
HW: I was dealing with some severe insomnia when my Desirae Garcia (ukulele, vocals) came into my life in 2006. We had a chance meeting via MySpace and spoke on the phone before we ever met. We'd have these epic conversations and spoke as if we were old friends. Somewhere along the lines we got on the topic of windchimes, and how I thought mine were haunted because they would chime without a hint of wind. She too had a tale of windchimes, and we toyed with the idea of starting a band called The Haunted Windchimes! I don't think either of us could have anticipated or predicted how far it would go. We were planting seeds, and in the harvest of that year, these seeds and dreams begin to grow and become our reality.
OS: You guys seem to find a new musician to draw influences from (Leadbelly, Hank Williams Sr., Dylan, Patsy Cline) everywhere you travel, in turn creating a very unique sound. Who were you listening to when you first started playing music as kids?
HW: We all come from pretty diverse musical backgrounds, my sister Chela (banjo, vocals) and I grew up with a music lover for a Mom and often fell asleep to the likes of Bob Dylan, The Beatles and her favorite Neil Young. She would take us for long drives and listen to her favorite songs, and we'd all sing along. The first band I ever truly loved was Queen! I started off on the piano, listening to composers like Chopin and Beethoven. Freddy Mercury and Queen taught me that music could be fun and catchy too. Desirae grew up with a music lover for a father who leaned more towards soulful and jazzier music. She joined a southern-style choir when she was a young girl in Savannah, Georgia. Because her mom was in the military, they moved around quite a bit, giving Desirae in even broader scope on the world and the world of music all around her.
OS: From Paper Bird to Rojos Calientes, there seems to have been a resurgence of folk and Americana with a modern twist on the Colorado music scene in recent years. Do you attribute this pattern at all to the lifestyles and atmosphere particular to the West? If so, what do you think it is about the West that inspires these sounds more so than other parts of the country?
HW: In the West you have all the inspiration in the world to write songs while in a traditional folk setting. From the beautiful rocky mountains to the various valleys and rivers, and there always seems to be a train whistle blowing somewhere off in the distance. Pueblo, Colorado, where we are from, particularly has an old timey feel. There is a lot of history in this town, and that seems to resonate on every street corner.
OS: As a native Coloradoan myself, I know there is limited civilization East, South, and West of Pueblo for many miles. Has this handicapped your ability to spread your music on a larger scale? Or have you found a niche spreading your music by playing in the tiny cafes and coffee houses scattered throughout rural America?
HW: We've managed to carve out quite a niche for ourselves here in Colorado. The music scene is always in flux, always changing and growing. With the help of some great friends in the Colorado Springs area and dedicated fans, we have had great success! We play the majority of our live shows (while in our home state) in Pueblo, Colorado Springs and Manitou Springs. We continue to work on branching out to more places such as Grand Junction, Aspen, Denver, Boulder and others.
OS: Whether battling natural disasters, fast food, or insufficient funds, you guys have always persevered to move onto the next town during your marathon summer tours, and in some senses lived the concept of true freedom, an idea at the center of your idea of America. How have these journeys in pursuit of complete freedom affected your songwriting?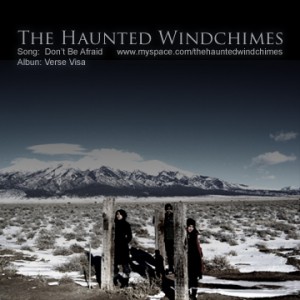 HW: We've tried many times to describe this particular sense of freedom while traveling. It kind of boils down to what we have dubbed The Spirit of the Road. This spirit, if you can turn your mind on to it, has infinite possibilities, or so it seems. It is nurturing and giving if you simply acknowledge it and above all are thankful for its blessings. There have been many times when we've been flat broke trying to make it to the next town, and something will always open up, whether it be a generous donation by a stranger while busking, or a show offer that ends up paying well or leads to a chance meeting, this spirit seems to take care of us and light the way. Of course this has had a huge role on our songwriting, but more so made us appreciate the beauty of creation, and believers of the saying, life is what you make it.
OS: At times you've relied on hitchhiking as your primary mode of transportation and on busking to pay well enough to feed you. It seems as though you have placed a heavy karmic belief and enormous trust in your fellow human. Does this intimacy translate into the live performance setting?
HW: I think it has less to do with karma, and more to do with vibrations. Music is a favorable form of vibration, but we all carry a vibration as people, every city and town too. If we are aware of our own vibration we learn to work in harmony with the world around us, and thus attract like minds and energies that are complementary vibrations. You get what you give out there on the road, but most of the time you are content with giving, and sharing music, because it is a part of you, or an extension of your higher self that wishes to reconnect with its source. The same goes for our live performances! We wish to make people feel a part of something, and that we are all in it together. Sing-a-longs are a staple at a Windchimes shows
OS: Most of your songs sound at home in the folk genre, except for the richly soothing Summer Solstice, which is more of a slow delta 1-4-1-5-4-1 blues piece. What was the inspiration behind this song?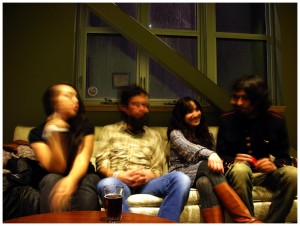 HW: Everything surrounding the creation of this song is nothing short of amazing. Shortly after Desirae and I formed the Haunted Windchimes in 2006, we embarked on our first tour in the summer of 07. Before playing music with me Desirae had never been in a band or on the road without her parents. I felt like there was always this gigantic voice inside of Desirae waiting and wanting to come out. One night while in Nashville, Tennessee, we lucked out and got an impromptu gig at a place called Café Coco, we talked the owner into letting us set up on the patio and play for tips. While we were singing songs, I was coaxing Desirae to sing louder because the crowd was so loud. It didn't quite happen during that particular performance. Later that night something inside of her seemed to turn on, as if she were being born, and seeing the world for the first time. We made our way to a log cabin where some nice folks were letting us stay in Hendersonville, and in this moment of clarity she wrote that entire song on the car ride home¦ It was during the summer solstice, and we later called her mom in Hawaii to sing it to her over the phone.
OS: With song titles like Leaving Here and Waiting on a Train, and lyrics like We're on the run and we know why, the first time listener would assume you're chomping at the bit get hit the road in one direction or another. Is this always the case? Or is there ever a tinge of wanting to stay put for a while?
HW: Our songs of travel have many meanings, the most obvious one is the need to escape, maybe get out of a bad situation or just a change of pace with new faces. The other much deeper meaning is the internal quest we are on (individually and as a group) constantly moving towards and seeking truth and love.
OS: Something tells me you're not the type to keep strict plans and deadlines, but do you have any general idea of what comes next for the Haunted Windchimes?
HW: We have big plans for 2010! Right now we are scheduled to hit the studio in January to record songs for our new album Honey Moonshine, and a summer tour to promote it! I feel like we have all matured a lot as a band and as musicians since our last album and have become better friends. Our line up now consists of 5 members: Mike Clark " Harmonica / Mandolin / Guitar, Sean Fanning " Stand-Up Bass, Chela Lujan " Banjo/Vocals, Desirae Garcia " Ukulele/Vocals and Myself " Guitar/Vocals, and with the new additions it has inspired better arrangements and better songs. We're just getting started!