The show started off well, fans laughing with the lead singer of Kings Of Leon, who were playing to a large crowd in Dallas, TX as a part of the US leg of their international tour. A half hour into their set, front man Caleb Followill entertained the crowd with a few songs, but mostly babbled on about how hot out it was and how awesome everything in his life was. Fans found it hilarious at first, but things took a turn for the worse and it has been downhill for the Tennessee band ever since.
Caleb announced his plans to the entire audience, saying. "I'm gonna vomit, I'm gonna drink a beer and I'm gonna come back out and I'll play three more songs". He never came back out. The band had to apologize and end cancel the rest of the show. Bassist Jared Followill explained through Twitter, admitting, "I know you guys aren't stupid. I can't lie" and "there are internal sicknesses & problems that have needed to be addressed". Only a couple of days after this show, the band announced that they were canceling the remaining US dates of their tour. Despite Jared's remarks, the band's official statement cited vocal issues and exhaustion as the reasons for the tour debacle. It's not uncommon for artists to cancel shows due to issues with their voices, but this seems like a deeper problem.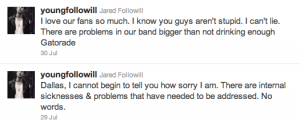 How much do Kings Of Leon owe their fans? Not only did they just cancel tour dates for about the next two months, but they're not even rescheduling them. Everyone gets their money back but to someone who's looking forward to seeing a band perform live, this hardly seems like enough. And to top it all off, it seems like the band is making excuses to cover for their front man. Yes, his personal issues are just that…personal. But when the issues affect his ability to do his job and anger a loyal fan base, he and the band should at least offer an honest explanation.
If they don't, their run as a popular rock band, selling out shows, could be over soon. Sure, at first, music fans love drama and controversy. But the troubled rock star thing gets old pretty fast. The band is encouraging Caleb to get help for his problems, which is not only a good idea for their frontman's own health, but also for the sake of their careers. This would help avoid more embarrassing ordeals like the Dallas concert. Not only did they anger their fans, but Followill's antics cost the band millions of dollars for canceling shows, and possibly their reputation as live performers.
Check out footage from the Dallas show that started all the drama!