Music insiders know the right balance of passion, musical talent, image"and most importantly"work ethic is what really makes an artist shine.  OurStage folk act Annie and the Beekeepers are putting their own spin on this classic formula while making its mark with mature composition, clever lyrics and a nostalgic yet earthy sense of melody.
Massachusetts native, Annie Lynch began writing music when she was thirteen-years-old, playing for friends at small coffee shops. It wasn't until she met the rest of her band mates that she started considering music as a true career. When we spoke to Annie, she told us this was the starting point for the band's songwriting collaboration. Squid Hell Sessions, the Beekeepers latest EP release, is the result of this effort. The band's unique fusion of Folk and Blues, along with their straightforward writing style, afforded them the opportunity to perform at SXSW and CMJ in past years. They've continued to parlay their sound into upcoming spots in the Bristol Rhythm and Roots Reunion and Midpoint Music festivals.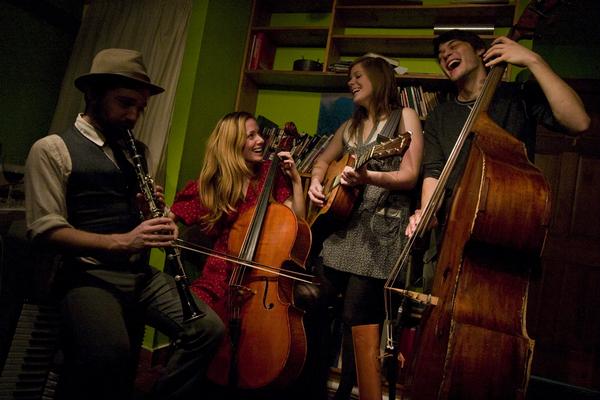 Music aside, Annie and the Beekeepers have gained industry success in many other ways. The choice of "the Beekeepers" as the band name refers to the group's tireless work ethic. Annie likens their sense of motivation to the same "strength in community" found within bee colonies. In this spirit, Annie unknowingly sets an example for indie bands who want to succeed while  staying true to their sound. She also expresses some seldom heard advice:  in the music industry, "we're all just people in this together." This concept encourages artists to go out into the world and make personal connections. Even if an artist feels like their won't land that next club gig, they should take the time to write a letter. The talent buyer at the club is, after all,  just another person trying to help their venue and the artists who play there. The effort may just be the "in" an artist needs to get their foot through the door. In fact,  Annie and the Beekeepers  got their music played on the Emerson College radio station in Boston, MA (WERS) using this same strategy.
Balancing out this equation and further highlighting the band's organic style is the Beekeepers' decision to stamp their album art by hand on 100% recycled cardboard packaging, purchased from Calumet Carton. These small steps allow an artist to add a personal touch to their albums while staying cost effective and environmentally friendly.
Let Annie and the Beekeepers add color to the musical landscape in your world.  Check out their latest release and join their fanclub.