One thing we've noticed about this season of The Voice is that both the coaches and the contestants seem to be making strange decisions…and that goes for wardrobe, song choice, eliminations and coach selection. For example: why did Alicia Keys backup singer Jermaine Paul audition with Avril Lavigne's "Complicated?" And then choose Blake Shelton as a coach? Why would badass rocker Juliet Simms decide to work with a soul king like Cee-Lo? Why does Carson Daly drive a Kia?
Let's take a look at some of the choices made in last night's episode.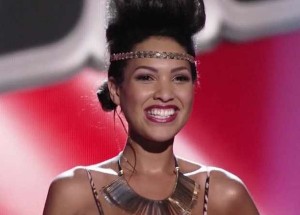 Perhaps the most shocking moment of the two hour show was when both Cee-Lo and Blake Shelton turned their chairs around for aspiring model Erin Martin, whose rendition of The Plain White T's' "Hey There Delilah" was rough, at best. Though her tone is certainly unique, we couldn't get behind her mumbling annunciation and shaky vibrato. Also, why was she dressed like an extra from Madonna's Super Bowl halftime show? Oh well. She was good enough for two out of four of the coaches…
But what about blue-haired R&B singer Winter Rae, who brought along her BFF Perez Hilton? Though her shaved head and tattoos might say "rock star," Rae performed a stunning rendition of Rihanna's "Take A Bow" (only to be snubbed by the judges). It's moments like this when we have a love/hate relationship with The Voice's focus on finding indescribably unique talent. So many solid performers seem to fall through the cracks in favor of those who are "different," but it doesn't seem to always be the best decision. We're certainly hoping to hear more from Ms. Rae in the future.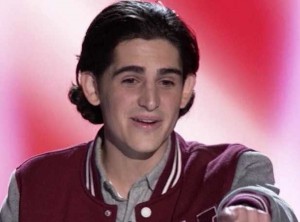 Another strange decision came from Boston native James Massone. After seeing his video backstory (which even included a bunch of stereotypical Boston phrases, like "go pahk the cah in tha yahd"), we really weren't sure what to expect. Massone chose to audition with Drake's "Find Your Love," an odd decision, given his soulful, pop/R&B voice. Luckily, his performance was a pleasant surprise to coaches and viewers alike.
What did you think of last night's episode? Whose performance was your favorite? Let us know in the comments below!
Like this? You might also like…