Forbes recently released their list of the world's richest individuals. Mexico's telecommunications magnate Carlos Slim is the richest man in the world two years running and Bill Gates and Warren Buffett are still in the Top 5. So not much interesting news going on there. However, Forbes also released their list of the Top 5 richest rappers to accompany their billionaires' list, giving the whole proceedings a much more pimp flavor.
Sean "Diddy" Combs has topped the list this year with a staggering $475 million dollars. No surprise there as the man is the ultimate entrepreneur. In the world of  hip hop music, making money is the opposite of selling out: it's the name of the game. Diddy has no competition in that department even if he's not the best rapper in the world. You name it, be it clothes, business management, brand development or what have you, Diddy has his hands in it. Jay-Z comes in at a surprisingly close second with $450 mil, his income likely more tied to his mammoth record sales and his position as the head of Roc Nation. Plus Beyoncé is his wifey. Finally, Dr. Dre rounds out the Top 3 with $125 million, a large chunk of which can probably be linked to those now ubiquitous Beats headphones (which now come in Justin Bieber flavor!).
The real surprise on this list is entrant tied with 50 Cent for the Number 4 spot: Birdman.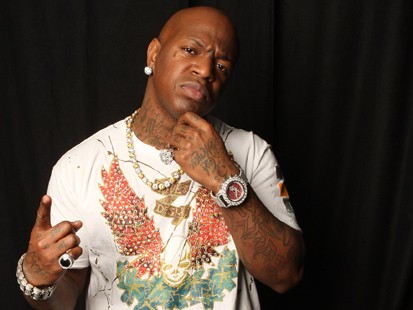 Wait, wait wait. Bird-who? Who-man?
True, Bryan "Birdman" Williams is not a hit maker on the same level as the other rappers on this list. In fact, I challenge you to name one of Birdman's hits from any point in his career. That's not to say he hasn't produced hit tracks before, but it's telling that he's only had seven Billboard Top 100 hits throughout his career, none of them falling withing the Top 20. Compare that record to the string of hits that any of the other rappers on this list have come out with. It will pale in comparison. So where is Birdman getting all of his paper?
First, he's the head of Cash Money Records. Cash Money initially blew up when they signed a $30 million dollar distribution deal with Universal. The company counts Young Money Records, home of Lil Wayne, Nicki Minaj and Drake among others, as an imprint. Impressive, but pretty standard stuff  in the record business. What is it that really sets Birdman apart from the rest of his fellow Forbes rappers?
It's oil. Which explains this tattoo.
In 2009, Birdman and brother Ronald "Slim" Williams began the Bronald Oil & Gas Company. Bronald is dedicated to "working cooperatively with governments and private enterprise to recover energy from reserves throughout North and Central America in an environmentally friendly manner". While news of the enterprise was initially met with either shrugs or jokes it appears that the Williams brothers have done well for themselves on this one. Not only that but some commentators who know a lot more about the oil business then we do report that "indie oil companies", like Bronald, are the future of the industry. So kudos to Birdman for having the temerity to break into such a competitive industry.
And kudos for getting that paper. Scrilla, chedda, scratch or green; you name it, Birdman's got it.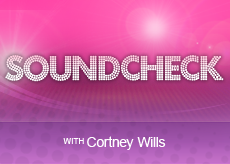 The stars were out and about in Hollywood this weekend for the 53rd Annual GRAMMY Awards. Music's biggest night kicked off on Friday night with an exclusive pre-GRAMMY party hosted by five-time nominee, Cee-Lo Green at Live! On Sunset. Faith Evans, Fonzworth Bentley, Omarion and Big Boi enjoyed fiercely fashioned live mannequins, mac and cheese and customized cocktails and enjoyed a secret show from Cee-Lo, who told us he was beyond honored to be nominated five times and said I'm enjoying every moment of this.
Cash Money Records hosted a top-notch pre-GRAMMY soiree on Saturday night with a custom-built bank vault display and impressive ambiance. The gold carpet shined bright with stars like Nicki Minaj, Drake, Lil Wayne, Mario and Reggie Busha among others. The Cash Money family took the stage to present Nicki with her platinum plaque to commemorate her debut album, Pink Friday selling 1 million copies. Wayne announced the beauty, who gave a heartfelt thanks to Baby, Slim and the rest of her crew, and shout out to all the bad ass bitches getting' money. She told the crowd that this man found me on some steps rapping on a DVD in Queens, New York and now look. This shit is real.
The highlight of the evening came when Wayne hit the stage alongside Jay Sean, DJ Khaled and Busta Rhymes to perform a medley of Young Money hits to a thunderous crowd into the wee hours of the morning. While some party-goers split to hit The Roots concert at The Music Box Theatre, others, called it a night to prep for the next day's festivities.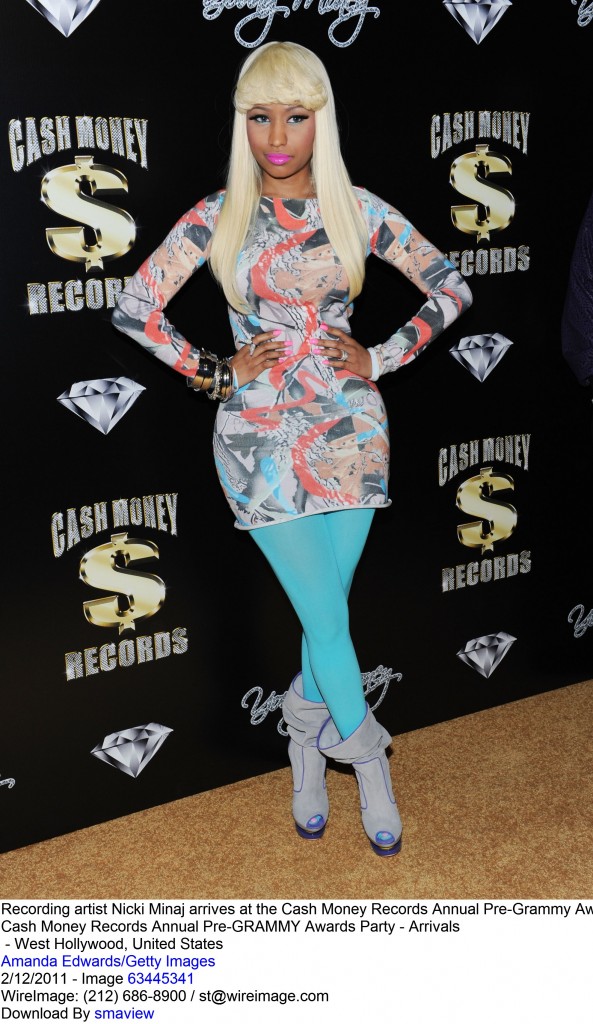 GRAMMY night featured thirty performances, and was over-the-top fashion frenzy, with Nicki Minaj donning a leopard-print Givenchy ensembleand spotted hair. Lady Gaga arrived on the carpet in an enormous egg, and spending the night with pointed prosthetic shoulders and horns on her forehead. The freaky futuristic imagery lasted throughout the night culminating in her graphic performance of Born This Way.
Best new artist nominee, Justin Bieber gave an acoustic rendition of his hit, Baby, then was joined by his mentor, Usher for a rendition of his hit, Oh My God. Janelle Monae joined Bruno Mars and B.O.B. for a fifties-inspired segment complete with doo-wop back-up singers, bow ties and black and white effects. Drake and Rihanna gave a sizzling performance of What's My Name, with the sexy siren wearing a beaded bathing suit and grinding on her rumored former beau, and Best New Artist nominee.
The biggest moment of the night came from ten-time nominee,Eminem, who performed a remixed version of his hit Love The Way You Lie with Rihanna clad in a gorgeous gown beside him. Then, as Skylar Gray belted out the hook to I Need a Doctor through a misty darkness, Eminem delivered a dramatic punch when he spit a stirring tribute to his friend and mentor, Dr Dre, begging him back to the mic for his long-awaited return. And finally, Dre took the stage, commanding gasps from the crowd at his massive stature. His huge, built up figure, (much taller than I remember too) made his triumphant return after a ten-year hiatus, delivering his verse from the second single of the now DEFINITELY coming out project, Detox.
While Eminem nabbed two of his ten nominations, including Best Rap Album, the night's big winners were Lady Antebellum, who scored five statues and Lady Gaga who nabbed two. Big surprises came in the Best New Artist category, when jazz singer, Esperanza Spalding beat out Drake, Justin Bieber and Florence and the Machine; and again when Arcade Fire won Album of The Yearover Katy Perry, Gaga and Eminem.
Check out the full list of GRAMMY winners here.