Like so many other things, it all began with The Beatles. The style that came to be known variously as baroque pop, orchestral pop, chamber pop, etc. can basically be traced back to 1966, when The Beatles started crafting their own brand of art songs with classically styled string arrangements, like Eleanor Rigby, right around the same time their American rivals The Beach Boys were getting orchestral themselves on Pet Sounds. Soon the world was awash in pop/rock combos with big ideas"  tinkling harpsichords, tugging cello lines, and tart violin phrases were placed atop ˜60s pop songs like frosted flowers adorning a wedding cake. While the style would forever after be associated with the ˜60s, baroque pop never really stopped influencing subsequent generations of bands, from ˜80s acts like The Three O'Clock and XTC alter ego The Dukes of Stratosphear to the Elephant 6 collective of the ˜90s (Olivia Tremor Control, Of Montreal, et al), and beyond.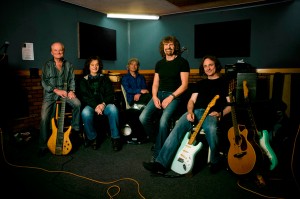 But while the sound may have started in the busy brains of Brian Wilson and Paul McCartney, baroque pop's standard-bearers, the artists who truly came to epitomize the style, were The Zombies and The Left Banke. For British Invasion heroes The Zombies, their 1968 swan song, Odessey and Oracle [sic]"recorded in '67"was a high-water mark both in the advancement of orchestral pop and the oeuvre of the group itself. On the other side of the Atlantic, young New York band The Left Banke was already at work on its second album of baroque-pop gems by the time Odessey was released. Their '67 debut had included such heart-stoppingly gorgeous hits as Walk Away Renee and Pretty Ballerina, and even after boy-genius keyboardist Mike Brown departed, they soldiered on with 1968's outstanding The Left Banke Too. But by the time 1969 rolled around, both bands were basically done, and only the aforementioned masterpieces were left to influence budding chamber-pop disciples.
Marie Hines is a purveyor of rosy piano melodies, a feminine counterpoint to songwriter Adam Young of Owl City. Both write songs steeped in hope and whimsy, viewing the world around them with a mix of wide-eyed wonder and sensitivity. Hines, however, steers her songs into chamber pop territory, mixing piano with violin, cello, guitar and drums. Worth The Fight is an orchestra of optimism, where Hines promises the listener that there are Bigger pictures to paint / More horizons to chase. In Wrapped Up In Love she switches gears for a sweet shuffle somewhere between Sara Bareilles and Natasha Bedingfield. Like Young, Hines also has a song called Fireflies. Hers blends the high twinkle of piano with the low croon of cello for a swooning, moonlit melody. Hines has plenty of horizons left to chase, and they're sure to be just as lovely. Stick around for the joy ride.