Craig Morgan is a tough guy to resist.
If his incredible brand of country music"including past hits such as "That's What I Love About Sunday," "Redneck Yacht Club" and "International Harvester""doesn't lure you in, his charming persona and can-do attitude most certainly will. You'll get a full blast of both during his upcoming tour in support of his just-released studio album This Ole Boy.
Doubters need only read several critics' enthusiastic thumbs up for the album's twelve songs to know that Morgan is on the cusp of some big-time success. You know what's great about that? In a music environment where commerce often comes before art, Morgan has truly landed on the side of art as evidenced by the TLC he has put into his music.
He recently took some time out of his jam-packed schedule to talk with OurStage about changing record labels, crafting his new album and a surprise he received from actress Angie Harmon when she joined him in filming the video for 'This Ole Boy.'
OS: So you recently signed with the Black River Music Group. What options did that offer you when making this album that perhaps you didn't have before?
CM: Nothing that I didn't have a chance to do before. But I did want to make the best product I could possibly make, produce the best record I could produce. I feel like I've not only done that but made the best record I've ever made. I attribute that to the fact that I am on a new label that has [people with a] sense of energy and excitement that I haven't felt in a long time.
OS: How did you go about choosing this label?
CM:  I had meetings [with various labels] and upon completion of all those meetings I felt like this was the label that was best suited for me and my career, just based on what they had [by way of] promotion staff and distribution and resources. I just felt they were best for me and my record and my music.

Aaron Lewis' iconic career with Staind made him an alt rock idol but he's proven he's the "Country Boy" behind the hit song. Town Line, Lewis' five-song country debut, is slated for release this spring. Lewis has been on an acoustic tour during which he plays several of his country tunes such as "Forever" and "Grand Daddy's Son," plus some of his Staind hits including "Outside" and "It's Been Awhile." As Lewis and Staind start the countdown to the band's massive tour, which begins next month, and look ahead to a new album release this summer, Lewis took time to talk to OurStage about his career, his music, and just what he see ahead.
OS:  What do you plan to play on your next solo dates?
AL: I'm just going to play my normal set that includes the five songs on my country release. The whole rest of the evening is the [Staind music]. We'll see how that goes and we'll see what the [audience] enjoys. There will likely be a lot of Staind fans.
OS: What song from the new album do you most remember writing?
AL: "The Story Never Ends"" the first song off the record. It came to me in a beer stand in Paducah, Kentucky [when I was on a hunting trip]. I looked up at my [friend] and asked him if he had a pen and paper. I got back to the camp and sat down with the guitar and went to the studio that day and was bouncing back and forth between the hunting camp and recording.
OS: How did it come together?
AL: I kind of played a cord progression and half figured it out. The rest of the guys were sitting there and I was just thinking about what we were doing. Within an hour, I had it recorded.
OS: That's amazing that it came together so quickly.
AL: The problem is that I don't have any control over it! It can happen that easily or not at all!
OS: A lot of fans are surprised that you have recorded a country album. What brought you to that?
AL: I grew up with country. I spent a lot of time with [my] grandfather, especially a lot in the summertime. He lived twenty-five minutes from our house. I stayed there all summer [when I was young] and he was a country music fanatic. It was always on, always, always, always.
[Not long ago when] I heard Kid Rock playing old country music, it  brought back all sort of memories. It kind of is the soundtrack of my childhood and I haven't really been able to escape it since. Now I'm always listening to country. I love "Willie's Place" [on satellite radio].
OS: So what was the first country song you wrote?
AL: "Country Boy" was my first attempt at writing a country song. It's heavily laden with stereotypical country lines about whiskey and granddad, don't tread on me. A lot of that was very cliche, but a lot of it was [written in a] very tongue-in-cheek manner. I was trying to write a country song that when it was finished and people started hearing it, they could [relate]. It really got me to thinking about country [music] more. It's really in my brain now.
OS: What has the reaction been from your band mates and fans who enjoy your rock?
AL: Everybody is very supportive of me doing this. It has affected things a little bit [for Staind] especially in the recording process. I wanted to record a Staind album when my solo was released. This was the first time in my career that I ever had a deadline [as I did to finish the Staind album for a release this summer]. I never had this kind of stress where it had to be finished by this date or we will be severely financially punished. That caused some inner turmoil.
OS: What does your country debut mean for Staind?
AL: By contract I will tour behind the new record I put out and at the end of that I probably will have found time within the touring schedule go back into the studio in Nashville. When we are done with [tours for] Staind, I will take time off and be with the family and start into the solo cycle and a new record and tour.
I have never been opposed to making music with Staind but as I get older and life goes on, I am missing things"I never can rewind and get them back. There will come a point that I never want to do it like this anymore.
Find out more about Aaron Lewis' music and tours on his Web site.
Don't miss Lewis' "Country Boy" video below that includes Charlie Daniels, Chris Young and George Jones.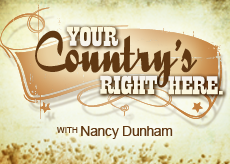 Colt Ford is living proof that good things happen in threes.
No sooner was he grabbing kudos for his nomination on the April 3rd broadcast of the Academy of Country Music Awards show in Las Vegas, than he was lauded for co-writing Jason Aldean's red-hot hit "Dirt Road Anthem." On May 3rd, Ford released a new album Every Chance I Get, that gives him plenty of chances to show off his musical range and build his ever-increasing fan base.
"I had this guy in $300 jeans telling me I'm not country," said ACM nominee Ford with a laugh. "I said 'Really?' I guess you think of country a bit different than I do.'"
Those that think Ford's "country rap" style isn't genuine should talk to Hank Williams Jr., who invited Ford on his Rowdy Friends Tour along with Charlie Daniels, Tim McGraw, Jason Aldean, Eric Church and the many other artists who work with Ford when they get the chance.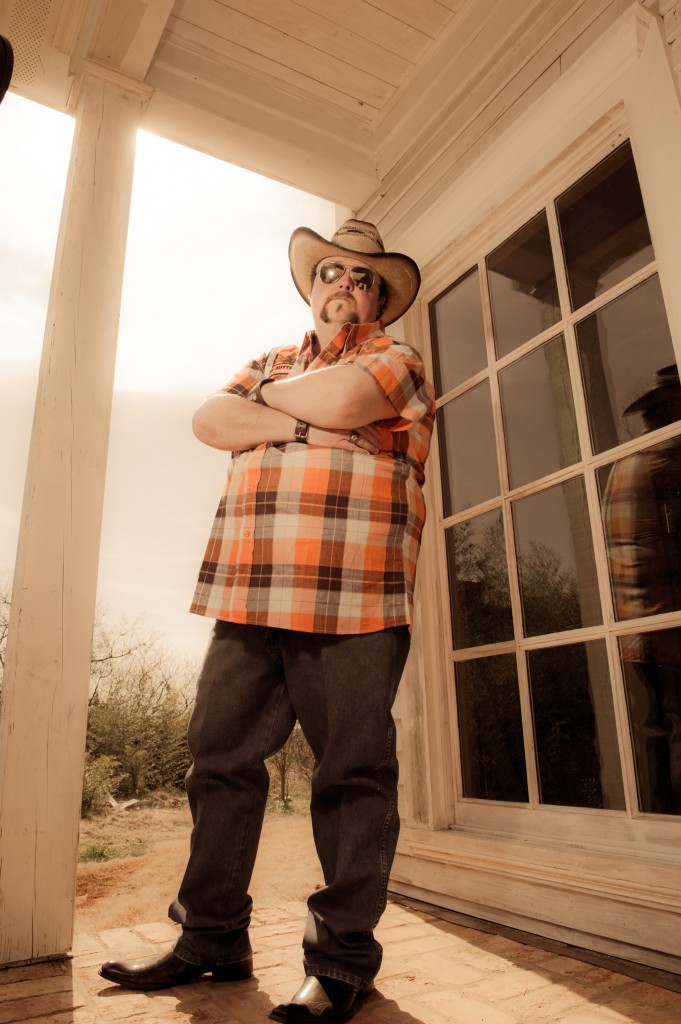 Take Aldean, a good friend of Ford's. Although Colt had recorded "Dirt Road Anthem," he was enthused when Aldean followed suit, putting his own spin on the song.
"Jason is one of those guys who can relate to the song. He's authentic and he made the song sound just like him…That's just great," said Ford, noting that he and Aldean both grew up as small town country boys. "He's one of my close friends. Of course when we talk, we don't talk [business]. We talk football, fishing, trucks, all those things we both like."
One of those things, though, may well be country music legend George Jones, who gets a special call out in "Dirt Road Anthem." "When you think about driving down the road swerving and smoking, you just think of George Jones," said Ford likely speaking for most country music fans. "It just made sense."
It also made sense for Ford"who loves the variety of sounds in country music"to invite his friends to join him on the latest record. He spent plenty of time writing songs that would match up well with his guests.
Consider the song "Twisted," which is all about a small town boy struggling with mixed emotions as he plans to go to a big city university and try to be a football star. So many of the references about sweet tea and other points of small town life would be lost to many, but for guest artist, small town guy and football fan Tim McGraw, they arguably resonated.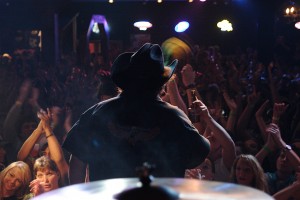 "That's probably one of my favorite songs I've ever written," said Ford. "I want to tell kids that it's cool to be a country kid. You can be cool and sure of yourself without your pants hanging down. I think that's why a lot of parents can relate to it.
"The thing is, I believe in God, family, friends and hard work. I can't not be who I am."
Country fans are glad of that!
Check out the track listing and featured guests on Ford's new album:
1. "Country Thang" featuring Eric Church
2. "Work It Out" featuring Luke Bryan
3. "Waste Some Time" featuring Nappy Roots and Nic Cowan
4."'Do It With My Eyes Closed" featuring Josh Thompson
5. "This Is Our Song" featuring Danny Boone of Rehab
6. "Titty's Beer" featuring Trent Tomlinson
7. "She Wants to Ride in Trucks" featuring Craig Morgan
8. "Pipe the Sunshine In" featuring Tyler Farr
9. "Every Chance I Get"
10. "What I Call Home" featuring JB & The Moonshine Band
11. "Overworked & Underpaid" featuring Charlie Daniels
12. "Skirts & Boots" featuring Frankie Ballard
13. "Twisted" featuring Tim McGraw
Find out more about Colt Ford's new record, tour and other news on his Web site.