When the rolls of power-pop royalty are read, before one can go back to early-˜70s ur-power-pop bands like Big Star and Badfinger, you have to hail the genre's late-˜70s/early-˜80s heyday. Among the handful of acts whose names are invariably invoked in that context"Cheap Trick, Dwight Twilley, The Knack, The Rubinoos, etc."Shoes are always near the top of the list. The Zion, IL band is considered by the cognoscenti to be one of the quintessential bands to combine melodic pop hooks with urgent rock & roll momentum. Their discography boasts stone-cold classic albums like Black Vinyl Shoes (1977), Present Tense (1979), and Tongue Twister (1980), and most of the rest rate just a step behind them. But Shoes released only one new album in the ˜90s, 1994's Propeller, and haven't really been heard from since, until now.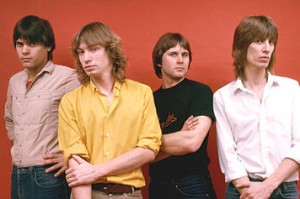 Ignition, the first record to feature new Shoes material in 18 years, will be unleashed on August 14. It features all three original Shoes: Gary Klebe and brothers Jeff and John Murphy, all of whom have always made equal singing/songwriting contributions to the band's albums. In fact, a key aspect of the group's sound is the way the members' individual styles blend together to create a true collective identity. Jeff Murphy says it comes from the fact that Klebe and the Murphys all learned their instruments between ˜73 and ˜74 specifically to start Shoes. That's part of why we communicate so well with each other, Jeff explains, adding the striking admission, We still don't know anything about music. We can't read music, we don't know what proper chord structure is, or scales, or any of that. But we learned together, so we're all in the same skill level. We speak the same language."
What would it sound like if Elvis Costello started a Cheap Trick tribute band with Led Zeppelin? Boston's Forest Henderson thinks it would sound like them. We're not so sure. Listen to Damn the Dogs and you'll get some rogue elements that can't be attributed to the above trifecta. A guttural bass rumble and guitars that spit grit kick off the tune, sending the listener into a swinging, garage rock free-for-all that sounds more like Queens of the Stone Age on warp speed. Forest Henderson blends blues, vintage rockabilly, and gleaming pop rock into muscular little melodies, polished to perfection. Tom Petty is a swamp bottom rocker with guitars that sputter and squeal and drums thrash. It's reminiscent of Last Dance for Mary Jane, only with more bite. The band's emphasis on groove makes for some great songs to spazz out to. Even Costello would get a kick out of their brand of pop.