Gays and lesbians have come a long way in entertainment since the days when George Michael had to have faith and pretend to want a woman in the "Father Figure" video to sell millions of albums. Although there's no telling whether Queen would have been as successful in the '70s and early '80s had Freddie Mercury definitively outed himself as a lower-case queen, for the most part, today's closeted male superstars don't have to wait until they are about to succumb to an AIDS-related illness to publicly acknowledge their sexuality (like Rock Hudson did)"or not (like Liberace and, well, Mercury).
That doesn't mean coming out of the closet still won't have a negative effect on the bankability of gay music stars. This is why most of them still choose to wait until they don't have too much to lose. Elton John, Ricky Martin, Clay Aiken, Savage Garden's Darren Hayes and Michael all did it after their blockbuster days were over.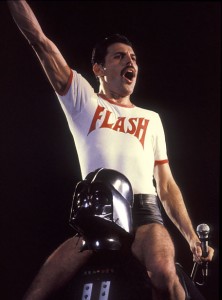 Though Hayes continues to release solo records that earn critical raves, it's been years since he was A-list on the charts. John is a superstar for life, but his most notable post-coming out success (the 33 million-selling worldwide No. 1 single "Candle in the Wind '97") was with a song he sang to a dearly departed princess. How gay! Rufus Wainwright, despite critical plaudits, has never had gold album in the US.
Then there is Adam Lambert, the perfect example of how to be an out and gay pop star. He has a vociferous fan base, but his commercial performance isn't commensurate with his level of fan devotion. He should be selling as many singles as Justin Bieber, but his last one, "Better Than I Know Myself," was a chart dud (No. 76 on Billboard's Hot 100), resulting in Trespassing, his sophomore album, being pushed back from March to a May 15 release date. Do we blame it on a weak single, or a pop constituency that's still skittish about fully embracing a proudly out singer? (more…)
It is clear that the world is changing, and it seems like most of these changes are for the better. New technology and trends have enabled us to do things we never thought possible.  And, even more importantly, opportunities are available to people, no matter what race, gender, sexuality, or religion they happen to be. But how is this change reflected in the world of music? It seems that while some genres of music are taking great leaps in the right direction, other genres are still digging in their heels.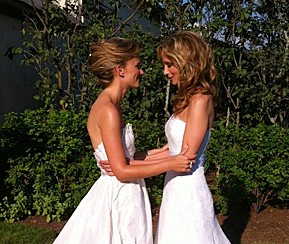 Country singer Chely Wright, one of the few country artists who is openly gay, recently married her girlfriend Lauren Blitzer in Connecticut. And while this was one of the happiest days of Wright's life, many of her fans did not see it this way. In fact, since Wright came out in 2010, she has been harassed and threatened by people who used to support her.  Country fans have historically been more conservative than other music fans, but for Wright it was a shock that her fan base seemingly disappeared after she opened about her sexuality.