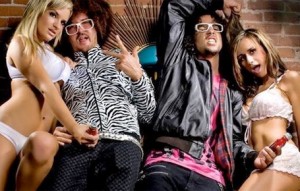 Being in one of the most successful and popular pop music duos in decades must be a rough life, right? I mean, one look at the legacy of LMFAO singles and it's clear these guys have lived a life of struggle and hard earned success. "Shots," "Party Rock," and of course, "I'm In Miami Trick," all convey relatable tales of the working man rising above the daily grind to achieve better things.
Just kidding. These guys love to party and we all know it, so it should come as no surprise that their solo albums are showcasing much of the same.
Last week we brought you the debut of "Bring Out The Bottle," the debut solo single from LMFAO's Redfoo, and this week we have the first track from the other have of the group, SkyBlu. His single, coincidentally entitled "Pop Bottles," carries a similar party heavy vibe as Redfoo's and features a guest appearance from Mark Rosas. You can stream the song below.
While some fans may have worried the hiatus of LMFAO meant the duo would be heading in separate sonic directions, the debut singles from Redfoo and SkyBlu tell a very different story. If anything, it looks like we're in for even more party anthems in 2013 as a result of the members working individually. Stay tuned for more information on their solo careers in the coming weeks.
If you like LMFAO check out OurStage artist Circuit Assassins.
More like this: