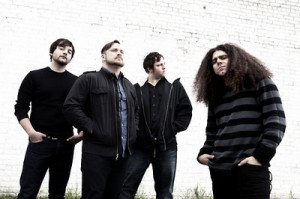 If you've followed any of the Coheed and Cambria mythology, you know that the fictional universe that Claudio Sanchez has created is expansive, complex, and incredibly detailed. Even with knowledge of past occurrences in the world of Coheed and Cambria, it's still difficult to parse the band's latest video offering for "The Afterman" off of their latest release The Afterman: Ascension. From the hard-cover coffee-table book that was released in conjunction with the album, it's clear that the new record follows the storyline of Sirus Amory, a man searching for the central energy source of the universe. This information might just help in explaining the storyline of the video: a woman in a white dress ventures out in a small rowboat over the sea after witnessing the explosion of a rocket ship. A lone astronaut parachutes out of the crash into the ocean, where he finds the woman. After they share an intimate moment together, the man vanishes back into the ocean while the woman sleeps. Is this Sirius? Where does this moment fall in terms of the greater story? You'll just have to listen to the rest of the album to find out.
Fans of Coheed and Cambria should check out OurStage act Shadowseer!
More like this: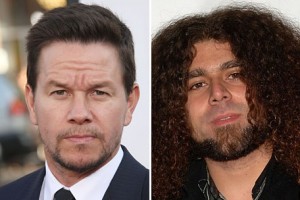 Mark Wahlberg and Stephen Levinson, producers of "Boardwalk Empire" and "Entourage," have obtained the rights to the graphic novel series The Amory Wars by Claudio Sanchez, singer, guitarist, and mastermind of the prog-rock concept band Coheed & Cambria. According to Variety.com, the team will be turning the futuristic sci-fi fantasy saga into a live-action feature film.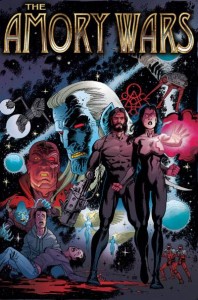 Sanchez's comics are an ongoing series about a family in an alternate universe and their battle to end the reign of Wilhelm Ryan, a superhuman dictator with ruthless power. These comics were originally written to accompany the parallel on-going story of Coheed & Cambria's concept albums, but have clearly developed into much more. They have garnered attention and respect from Comic-Con fans and famous comic book writers such as Peter David (The Incredible Hulk, Aquaman), who penned 2010's The Year of the Black Rainbow, an origin story to accompany the band's fifth full-length album with the same name.
Whether or not Sanchez or his band are to be involved with the scoring of the film has yet to be announced, but one can only assume that there must be some talk of this involvement, considering the albums and the graphic novels are practically one in the same.
Coheed and Cambria have a new album coming out this fall and a North American tour with Iron Maiden starting on July 24th.