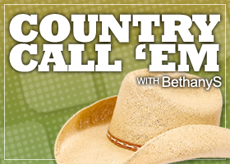 This year, on November 11, the Country Music Association will present the best of the best of 2009  at their annual awards show. At their 43rd show, the nominees are unprecedented in talent, presence and success. With 11 different categories, and nearly 20 performances, its safe to say this year will be unmatched in star power. Narrowing down an entire year's worth of country to just 5 nominees in each category seems difficult, so picking just 1winner from the cream of the crop is nearly an impossible task. The challenge will be daunting, but I hope I'll do the Association proud with my picks for Best New Artist, Album of the Year and the coveted Entertainer of the Year awards.
It's exciting to imagine what a few more years of experience can do for raw talent. And in the case of the CMA Awards, winning Best New Artist is as good as a one-way ticket to superstardom. Previously known as the Horizon Award, winners in the past include Taylor Swift, Rascal Flatts and Carrie Underwood. And, like most years, the 2009 nominees pack some stiff competition. Randy Houser, Jamey Johnson, Jake Owen, Darius Rucker and The Zac Brown Band comprise this year's nominees, and to be honest, any one of these nominees could take home the prize. However, with his first 3 country singles reaching Number 1, it seems that Darius Rucker walking away with Best New Artist is a no brainer. Not only has Darius taken a huge risk in crossing over from pop-rock band Hootie and the Blowfish to a solo country career, but he also took a gamble in entering a genre that has not had an African American success story since Charley Pride in the 80s. Darius isn't just a shoe-in for Best New Artist against rookies in the business, he has also been nominated for Male Vocalist of the Year against heavy hitter veterans like Kenny Chesney and George Strait.
Album of the Year is always a sticky category to predict. You must take record sales, critical reviews,and even overall content and message into consideration. Each nominee for 2009's Album of the Year has something to offer.
Jamey Johnson's That Lonesome Song and Sugarland's Love on the Inside are both winners in lyrical content and variety of songs; Defying Gravity from Keith Urban had successful sales, and numerous Top 10 hits. However, it is a close call between Brad Paisley's American Saturday Night and Taylor Swift's Fearless. Both have received rave reviews from critics, and done amazingly well in a dying market of buying full albums. Paisley has taken a big departure from his usual superficial, often comical approach to songwriting in this album, and Swift has been acclaimed as one of the best songwriters Nashville has seen in decades. The difference, however, is the unexpected and unprecedented success of Swift over the last year. Her Fearless album was the biggest selling CD in any genre for the entire year, and, coupled with its record breaking digital downloads, it seems as though Album of the Year is in the bag for 19-year-old Swift. Swift has exposed country music to an entire new audience through this album in a way no other artist has been able to achieve before.
Entertainer of the Year has been a hot topic in Nashville recently. In the years past, Kenny Chesney was the man to beat. But, after the Academy of Country Music dethroned him this year in favor of Carrie Underwood, his hold on the title seemed questionable. However, I stand by Kenny's star power, and am giving my Entertainer of the Year pick to Mr. Chesney. Other nominees include Brad Paisley, George Strait, Keith Urban and Taylor Swift. While all are undeniably the best musicians on country radio, I can't help but firmly believe in Kenny's entertainment value. His summer concert series sell out entire football stadiums, the tickets sell out within minutes. Year after year, Kenny delivers the concert of the year, and he did not let fans down in 2009. Yes, the other nominees produce platinum selling albums, sing Number 1 singles and lead gaggles of loyal fans, but Kenny adds something they can't: his best-selling, stadium rocking, impossible to forget concerts. And because of this undeniable fact, it seems improbable that anyone else will be stealing his crown as King of Country Entertainment.
November 11 will be a day celebrate country royalty, and I for sure will be a loyal subject tuning in. It is certain to be a night full of great music, great people and great work being rewarded.
Do you agree with BethanyS and her picks for the CMA Awards? Let us know!