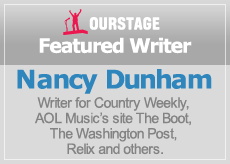 Little Big Town couldn't help but bubble with enthusiasm over their just-announced GRAMMY nomination for Best Country Performance by a Duo or Group with vocals for their song "Little White Church" on their latest album The Reason Why.
When the group joined noted Nashville songwriters Bob DiPiero (whose many hit songs include "Southern Voice" by Tim McGraw), Brett James (who penned "Jesus Take the Wheel" by Carrie Underwood) and Lori McKenna (the writer of "Stealing Kisses" by Faith Hill) for a recent Country Music Association (CMA) "Songwriters Series" in Washington, DC, Karen Fairchild and Kimberly Schlapman asked the others if they had been nominated.
"See, just because they were nominated they think we all were," laughed DiPiero good naturedly as the other writers at the December 5th Library of Congress event chimed in and Little Big Town's other members"Philip Sweet and Jimi Westbrook" beamed with pride.
As fans know, Fairchild and Schlapman began to develop the song after listening to some classic country songs by Patty Loveless and Del McCoury. After hearing the "call and answer" songs and looking through the notebooks where they jot down words and phrases that catch their ears, "Little White Church" began to form.
But as overjoyed as the quartet is about the GRAMMY nomination, they are concerned too, because they want fans to explore the other songs on the album.
"'Little White Church' was such a great kick off to that record, but there's so much more to that album," said Fairchild. "'Kiss Goodbye' [the just-released single written by Hillary Lindsey, Gordie Sampson and Steve McEwan] is a completely different layer and we want fans to hear that."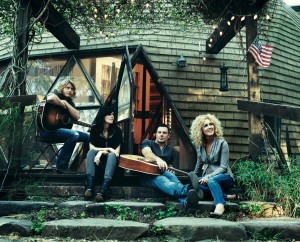 The members of Little Big Town thought so highly of  the song, that they yanked another song they planned for the album so they could record it.
"Jimi listened to it and then he ran upstairs and said 'Listen to this.' That's all he said," said Fairchild of her husband's reaction to the song one of their representatives told them she "couldn't get out of her head." "It was really, really late so we emailed (Schlapman and Sweet) and said, "Listen to this and let us know what you think.'"
By the next day the band recorded the song.
"We have never done a big power ballad," said Fairchild "This one gets really big and soaring and dramatic. So we cut it and we loved it and we said this should be [the] next [single]. It's different for us and it's something the fans will relate to, letting go of things in our lives."
The song "Shut Up Train," is another don't miss song, said Sweet, because it shows the group musically reaching in new directions.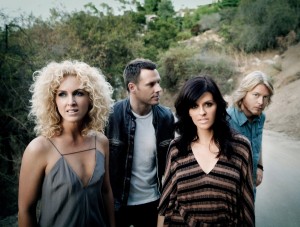 "It's a very powerful moment," he said of the recording of the song written by Luke Robert Laird, Hillary Lindsey and Christopher G Tompkins. "It's a more sparse track. Karen sings the song and it's really broken down and simple. The whole vibe from the track came off perfectly."
Suffice to say the band will watch message boards and Twitters to find out what fans think. That was the case just recently when a fan commented that the song "Lean Into It," which the band wrote with their producer Wayne Kirkpatrick, had gotten her through a very rough day.
"I thought, man, that is why you write songs¦for that reaction," said Fairchild.
Earlier this year, the group witnessed a similar reaction by thousands when they played the song during a Biloxi, Mississippi concert soon after the oil spill in the Gulf of Mexico. As the members of Little Big Town sang, they watched fans crying, holding hands and swaying to the music.
"That was powerful," said Schlapman. "I will never forget that night."
And the band mates says they are working to be sure that their future songs are just as moving to fans.
"We are always striving to better ourselves," said Westbrook. "For us, we are always looking to where we can go next. We always feel like we are just scratching the surface."
By Nancy Dunham
Nancy Dunham writes about music for Country Weekly, AOL Music's site The Boot, The Washington Post, Relix and other publications.