CNN has not had a great week. First they goofed on the Supreme Court decision regarding health care. And then on July 1st, the following report went out through the news channel's iReport service:
At 4:32 AM EST, it was reported that Gotye had shot himself in the head with a 9mm handgun. He was pronounced dead at 4:45 AM, and the investigation concluded that the cause of death was suicide. It was confirmed shortly after by family and friends. He was quickly taken to the Central Montmorency Hospital, but died from his injuries shortly after. His family has stated that they plan a closed funeral.
That would've been a shocking tragedy; a great loss to the music world. If it were true.
As broken by Zap2it on Sunday, CNN reported Gotye's death a bit prematurely. The details of the report couldn't be verified by any other news outlet after the initial report. To be fair (too late for that?), the iReport service is not official CNN news, as heralded by a disclaimer noting that the service is user-based and not fact-checked or edited. Finally, Gotye himself put any fears to rest by commenting on his death hoax via Twitter.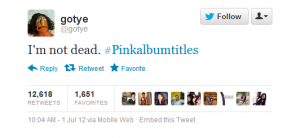 By the way, his comment, "I'm not dead," is referencing singer Pink's 2006 release of the same name. Even in the midst of a death hoax, Gotye is cheeky.