Bogotá or Caracas? Arepas de choclo or arepas de maí­z? Carlos Vives or Franco de Vita?
Colombia vs. Venezuela¦
If you had to choose between Colombian and Venezuelan music, which one would you pick? Hard choice, huh?
Luckily, you don't have to pick just one. Here on OurStage, there is a band that offers the very best music of these two countries. We are talking about Nodo, a band that defines itself as the Colombo-Venezuelan answer to post-grunge, grunge and hard rock, and plays songs in both English and Spanish. Nodo formed in 2004 with the goal of being a true revelation for the rock in Bogotá. Since then, they have done so much more than that. The band has recorded two video clips and continues to add more songs to its repertoire.  Their music transcends geographical borders which explains why the band can be heard outside Colombia, in Venezuela, greater Latin America and the US.
Intrigued?
Go to Nodo's profile and play the song How, the band's first single recorded in 2010. This song has been getting rave reviews from OurStage fans and has made it into the top ten charts several times. But that's not all. Nodo's How has also been a tremendous hit at local radio stations such as Radionica Colombia 99.1 FM.
If you are into How, then you will love Mentira, another Nodo favorite about how lying can destroy a relationship. Play it and you will see why these guys continue to climb the top ten charts. The music is just amazing and the lyrics are profound.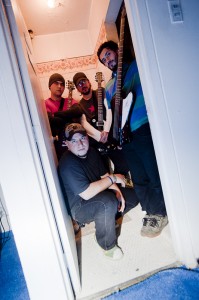 Enjoy this playlist by Nodo and see how Latin music is best when influenced by artists from different countries. ¡Provecho!