As Round 2 of the Intel Superstars 2013 battle heats up, it's a good time to remind our artist community about the "Judge For Me" tool. If you're not using this when trying to rally your fans, you're blowing it.
"Judge For Me" allows your fans to come to the site and be guaranteed to see your song or video come up within every five battles. Not using this tool might cause your fans to give up judging, since they're not seeing you enough.
The easiest way to use this is to search for yourself on OurStage.com. In the search results, you'll see the "Judge For Me" button to the right of your name. Click on that button, then share the resulting URL with your fans on social media, email, or whatever works for you. Your fans will go right to that page and can select the channel to support you in.
Note that this is for regular judging rounds. Once a competition has advanced to the semi-finals, there are too few artists in competition for this to work accurately and fairly.
Good luck.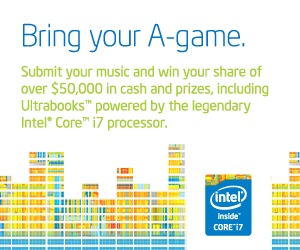 Calling all aspiring superstars! OurStage and Intel want to make your dreams come true.
Starting today, Intel is launching the 2013 installment of the Superstars competition, and together with OurStage they hope to kickstart the career of music's next breakout act in the months ahead. Want to be considered? Read on.
We've got the bases covered with eight genre-exclusive competition channels for singer-songwriters, pop divas, rock stars, country giants, rap moguls, músicos Latinos, R&B crooners, and Electronic beatmakers.
For the first round, we're looking for the best of the best in Rock, Pop, Latin, and R&B. Fan judging for Round 1 begins on August 15th. If those genres aren't for you, stay tuned for Round 2 starting on September 22nd.
If your track makes it to the # 1 spot in your channel, you'll win a package that includes an Intel® Ultrabookâ"¢, Blue Microphones microphone, Creative Labs speaker, Gibson Brands Inc, electric guitar with case*, HMDX Bluetooth wireless speaker, Orange amplifier, Sonos wireless speaker, and a V-MODA metal headphone. The Top 20 from each channel will be entered into Round 3, which will determine the overall Top 20. From those finalists, the grand prize winner will be selected by a panel of judges.
*NOTE: The electronic winner will not receive the Gibson Brands Inc. electric guitar, but will receive the Gibson Brands Inc. Stanton USB Mixstation.
If you're ready to launch your career, click here and submit your best song today!


You know MTV's Tr3s network. The well-known cable powerhouse is a staple in the Latin American entertainment world, capable of pushing emerging artists into the national spotlight.
If you think that kind of invaluable national exposure might help your career, we have good news for you.
Tr3s and OurStage have teamed up once again in the search for what we call El Headliner. It's simple " we put your tracks to the fans, who tell us what they like the most. Then Tr3s and special guest judge Karlos Rosé will personally sort through each of the top tracks to find the one artist worthy of spotlight artist features on Tr3s' show Top 20, as well as Tr3s.com's Music My Güey,Descubre & Download, and Blogamole.
Submit your best track by June 22, 2013 for a chance to win.
Good luck!
Participants must be eighteen (18) years of age or older at time of entry and must reside within the 50 United States or the Commonwealth of Puerto Rico.
Only submission materials that are determined, at the sole discretion of the Sponsors, to be classified as Latin, as defined on the OurStage FAQ's will be deemed valid entries.
Click here to view the competition FAQ's.
Click here to view the official rules.