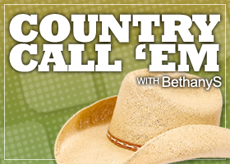 January is a month of high hopes. We all tell ourselves we'll exercise more, work less and spend more time doing what we love. I don't know what I can do about your health regimen or your work schedule, but I think I may be able to steer you in the right direction in regards to doing what you love if it happens to be listening to amazing country music. With this new year, album releases are also rolling in, and they have set quite a precedent for other album debuts to follow.
Lady Antebellum, who took country music by storm with their debut album in 2008, are set to tickle our ear buds with the release of their second album on January 26th. As the first country release of 2010, Lady A's Need You Now sets the bar for the rest of the year in country albums. The first single, and title track, went straight to Number 1 on the country charts which is a good sign the band won't be adding "sophomore slump" to their vocabulary. Need You Now, the single released in November of 2009 earned rave reviews by critics and listeners. It's the fourth overall single and the fastest rising for the group so far, reaching Billboard's Top 10 in just 9 short weeks. The song's steady rotation on country radio has increased anticipation for the upcoming album"their second single, American Honey will hit radio waves on January 11.
Lady A is geared up to continue the streak of success they started back in 2008. Since their debut, Lady Antebellum has been nominated for 11 awards, and while 2 are still pending, 4 wins on their resume ain't too bad for a group who first got together as strangers. Charles Kelley, the lead male singer, told fans to expect some truer sounding country songs, but also a few that walk the line to other genres. With a certified platinum debut album that's still on the iTunes Country Chart Top 10, I'm willing to gamble on Need You Now smashing sales, and I am not betting woman.
So this January, don't get down about the end of the holidays. Resolve to let Lady A start you off right with the perfect soundtrack for a seamless year. All you need to do is circle January 26 on your calendar. Lady A Need(s) You Now (and I need this new album right now!)