Bluegrass legend Del McCoury gives me hope that I can be redeemed musically, even if I still have a lot of work to do to reach that state.
Let me note that it's probably not cool to use myself as an example, but I'm guessing that a lot of folks wonder if the musical joy they experienced as kids can be recaptured. After attending this year's DelFest during Memorial Day in Cumberland, Md., I have to believe it can.
I had originally intended to let Del McCoury tell you about DelFest, that just wrapped up its fifth season and is busting at the seams with attendees (the area's local newspaper reports expansion plans are underway). We'll let you hear from Del, of course, but after reading the non-stop CMA Fest coverage, the Bonnaroo dispatches, and the excellent Kindle single "The Same Coachella Twice" by Sean Howell, I thought some personal perspective might be useful, too.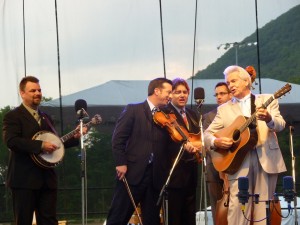 Let's start with some background about McCoury, who was a legend before the title was handed out like flyers advertising a tent sale. McCoury was first the banjo player, then lead singer and rhythm guitarist for Bill Monroe's Bluegrass Boys. We could go on and on about his career, which he put on hold for more than a decade so he could be close to home and help raise his family. Highlights include a Lifetime Achievement Award from the National Endowment of the Arts, membership in both the International Bluegrass Music Hall of Fame and the Grand Ol' Opry, and that's just for starters. You likely get the point.
Or part of it.
The real point is that although he's a hero to many musicians"Bruce Springsteen, Jon Fishman of Phish, Paul Stanley of KISS"he has never chased musical trends. And from what musicians tell me, McCoury never held those who did in contempt. Instead, he takes enjoyment and inspiration from all music, including that which he wouldn't play.