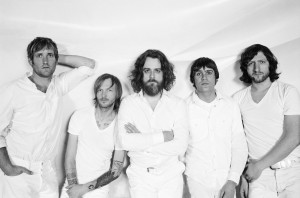 Minus The Bear have become the latest band to turn to fans while seeking funding for a new album.
Passing over Kickstarter and instead going the route of Pledge Music, which gives a portion of the proceeds donated to a charity of the group's choosing, Minus The Bear are seeking pledges for the release of Acoustics 2. The release will feature eight acoustic takes on fan favorites, as well as two new songs that will likely premiere ahead of the album's release. You can find the donation page here.
A note posted by the band on their project page reads:
Welcome!

We're in the process of putting the finishing touches on a new album, the follow-up to Acoustics, appropriately titled Acoustics II. The process of deconstructing these songs inspired us so much we wrote a couple new ones for this release.

But before we put this out, we thought we'd try things a little different this time. We want to give you a special experience with this release.

Your pledge pre-orders the album.

Your pledge also unlocks some behind the scenes content and surprises, including one surprise that we're really excited about. An instant download of the track Hooray is also included with every pledge.

Did we mention we're also going on tour? We'll be adding a special acoustic mini set to our fully electric rock shows this fall. Can't wait for everyone to experience Acoustics II!

— Minus the Bear
Ben Folds Five have announced that September 18 will be the official release date of their first full"length album since 1999's The Unauthorized Biography of Reinhold Messner. A lot has changed since the group called it quits at the turn of the millennium, but Folds, bassist Robert Sledge, and drummer Darren Jessee haven't missed a beat. Taking advantage of the new surge in crowdfunding popularized by sites like Kickstarter, the band has financed their entire new record, The Sound Of The Life Of The Mind, through PledgeMusic.com.
A few months ago, we got the chance to talk to Folds about the making of the album and the funding process, and we're excited to see the project finally complete. Folds' close friend Amanda Palmer also recently made headlines for her massively successful fundraising project on Kickstarter. Last week, Folds took to Facebook to share his thoughts on her upcoming album, Theatre Is Evil, which is also due for release in September.
Listen to "Do It Anyway," the first single from the new album, below.