When you look at the hip-hop scene at it stands now, with artists like OFWGKTA and LMFAO on the rise, you can feel the genre shifting a bit both in terms of music and artistic vision. Taking a more wild and eclectic approach to not only music but fashion sense is becoming a running trend. With that in mind, the up-and-coming rapper Theophilus London is riding the wave with his unique blend of influences, that read off like something from an indie rock band, and his eye-catching sense of style. This has led to widespread success with his debut release Timez Are Weird These Days getting significant buzz and landing high-profile performances like at this past year's Cannes Film Festival. Taking some time out of his busy tour schedule, this budding rap star sat down to chat with us about topics ranging from his Tumblr to listening to actress Milla Jovovich cover Prince.
OS: In the past, you've voiced displeasure about mainstream rap. Do you feel it's something you still try to stay away from?
TL: In a sense of [it] being played out, maybe. But, there's a lot of mainstream rap.
OS: How would you describe the difference between your approach and a regular hip hop artist?
TL: I work off of references. I idolize producers and try to sit down and work with producers on brand new sound. We talk about favorite artists first and foremost and develop a brand new sound. I really can't say I'm different from other rappers because I'm not in the studio with them or in their creative process.
OS: You announced on Tumblr today that you got Michael Jackson to DJ some of your shows. How did you find him?
TL: I found him in New Orleans. He was hanging out a window. I asked him if he wanted to tour and he said yes. Really glad he came out to tour with us.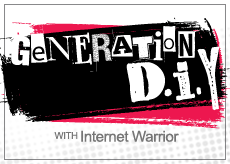 Remember back in the day when people used to visit dot coms to get information on their favorite artists, sporting events, movie trailers and basically everything else? Well, since the social0-networking wave hit the digital shores, we've been brainwashed to rely on Web sites like Myspace, Facebook, Twitter and a boatload more to get all of our juicy news. Don't let this fad fool you! Web sites are in fact still cool and still used by many artists, companies, sports teams, etc. It's just a matter of making them look good enough to compete with those customized pages that all bands now have on Myspace. This week's "Generation DIY" goes into some ideas of how to design, manage and promote your own dot com as well as available tools to help those who aren't HTML and design savvy.
Let's start off with the basics. Do you have the necessary skills and tools to build a Web site that people will actually enjoy visiting? If not then ask a friend, or seek out a designer/coder online through forums, The Musician's Atlas (as I have once mentioned) or classifieds on OurStage. Don't worry if you have the proper tools but not the skill set to make an intriguing Web site. If you have access to Dreamweaver, you can easily build a Web site using their built-in templates. You can even see the progress of your work using their preview options. There are also sites out there that have stripped-down tutorials on CSS, HTML, Java, etc. that can help get you on your way. Two highly-recommend sites are  W3Schools and HTMLDOG.
Here you can view different pieces of HTML that you can implement into your site, as well as CSS tutorials to help the aesthetics. Remember: once you design and code your page, you'll need to purchase some sort of URL (a dot com, a dot net, etc.) as well as host it on a site (godaddy, justhost, etc.). Both of these cost money and require monthly fees (yearly for the domain name).