Jessie Malakouti has a story to share with everyone. And what a globe-trotting story it is. She started her career in LA and eventually landed big in 2006 with the all-girl hip hop group Shut Up Stella. But, when things took a downturn with that group, Jessie made the daring escape to Europe. After spending some time in the UK club scene honing her craft, she made her triumphant return to the States with a new approach to music along with a brand new group to go along with it. Jessie took some time out of her busy recording schedule to sit down with OurStage to give us the lowdown on her new group: Jessie and the Toy Boys.
OS: Do you have any goals for Jessie and the Toy Boys?
JM: I'm currently working like a worker bee on the album which is going to come out in early 2012. So, that's kind of the most immediate goal, which is finishing this record. Making it sound exactly how I want it to sound and to put it out for the fans, because I know they're tweeting me everyday, asking when it is [coming out]. So, I'm working as fast as I can to finish the album.
OS: Why did you go with mannequins?
JM: I decided to form Jessie and the Toy Boys with the Toy Boys, because I have grown up in different bands and, no shake to anyone in a band I've ever been with, I know exactly who I am as an artist and I have a very clear vision of what I want to do, how I want to sound, how I want to look and all those things. It changes too, with my mood. It's difficult to be in a band with me, because I'm a creative control freak, so I decided to start a band with mannequins, or as I like to call them, Toy Boys, because they don't talk back. They're awesome bandmates. And also, from a visual point of view, I have so many visual ideas with them. It's fun.
OS: Does it feel different, having a lot more control over the creative direction of the album?
JM: It's something I'm used to doing, but it's different for me to have a team and a label that allows me to have control. I've always had control over everything that I've done. Just maybe in the past, with Shut Up Stella, it was more of a tug-of-war about what they wanted us to be and what we wanted to be. People have an idea of who you are and it doesn't always mirror what I think I am, so this is the first time I've been able to take control of everything and have the full support of my time, so it's really nice.
OS: Have you felt like you want to go wild with it and push off from the barriers?
JM: I don't necessarily break barriers, but if I do along the way, that's cool. I just like to create music that I like. So, when I leave the studio and there's a song I listen to in the car, even in a rough state, over and over, then I'm stoked. I know there's something that I'm proud of and that I love. Same thing with the videos, because I'm involved with the creative process of that as well. Any form of art that I'm hooked on and love to watch or listen to, for me, that's cool and I'm proud of this.
OS: Do you have any interesting stories from your time in the UK that you would directly attribute to your inspiration for this project?
JM: I have a really interesting story, which kind of unfolds on the album. Not to give away too much, there's a short film that's broken into five parts. It's called This Is How Rumors Start, along the title of the album. Each episode is a song title, so I wanted to push it. It's going to be coming out soon. Basically, as you go through the episodes, you kind of see what happened. It's based on the truth, mostly. You see what I went through in the UK and Europe, and why I started Jessie and the Toy Boys, and how I met the Toy Boys, and how everything started to come together and why I came back to America. I don't want to give away too much of it. I want people to check out the webseries when it comes out or mini-movie, as I like to call it. But, you can hear it in the music. Once you see the visuals too, you'll understand more what songs are about. Sometimes people think it's cool, because I put a song out on my EP earlier called Running Makes the Girl Goes Round and it was a fan/critic favorite. It's funny, because it's kind of turned into this strip club anthem, but it's totally not that. It's a song about my best friend selling me out. When you watch This Is How Rumors Start, you totally see that and you see what the songs are really about. But I like to keep it kind of open-ended, because I like for the listener to listen to my music and make their own connections about what they think songs are about. That's the beauty of music to me.
OS: What do you feel is the difference between the club scene in Europe and LA?
JM: The difference between the two of them is that America is very late. When it comes to dance music, we're 100% late. I was making records that sounds like everything coming out right now three years ago. My old demos could come out right now and sound relevant. But, I personally think we go harder though in the clubs, especially when I was touring with Identity Festival and the whole electronic dance tour. The crowds were fucking out of control and really awesome. So, there's a really cool energy in the dance music scene, but probably because we're late. Because it's so new over here, everyone's so stoked and pumped and even with dubstep. Not to be like I do everything first, but I put out a dubstep record in 2008 and I remember everyone in the club I played it for when I came over for Christmas was like What is this? I was like Just wait, it's gonna explode. But, I like that it's all happening over here now, because everyone seems so much more enthusiastic about it where I think in Europe, they're starting to flatten out on dance music a little bit. I mean, who knows? But I love it, I love the genre no matter where it's popping off. It seems to be a global phenomenon, so I'm happy that it's the kind of music I make.
OS: How do you view your collaborations with rap music and artists like Yelawolf?
JM: It's cool. Growing up in the LA music scene, I've always been amazed and impressed by hip hop and people who are just awesome at hip hop. I found Yelawolf online a while ago before he signed to Eminem and started tweeting him. I thought he had something really cool and really liked his style. Basically, we became friends. I played him Push It one day in my car and then we drove to the studio. Five minutes later, he recorded the rap that you hear on it. That's how I like to get down with music. I like for it to be genuine and organic and never want to do anything that feels forced. A couple of weeks ago, I met this really cool rapper named John Christopher. He's on tour with Kanye and CyHi (Da Prynce) and I think we're gonna collaborate on some stuff, so you can look for that. I just love hip hop and talented emcees, so it's cool to get to collaborate with them.
OS: Are there any underground pop acts that you might be interested in working with?
JM: I don't know how underground she is. I think she's started to take off in a major way as well. But, her name is Winter Gordon and she's a friend of mine. We both [were at] Miami Winter Concert this year together and we became friends there. She's come to LA a couple times and we've hung out. We're gonna do something together. There's this cool new group called DWNTWN. I met them because they're co-managed by DJ Skeet Skeet and he's a friend of mine. They're really rad and they're working on a remix for me for the song that just dropped Let's Get Naughty. It's cool, they're going really industrial with it. I don't know how to classify what they do, but it's definitely pop though. You should check it out. They just played CMJ. I'm excited about that project, so I want to do more things with them too.
OS: Are there any stereotypes that are really strange that get applied to you?
JM: I don't think so. Not any that I can name. I guess, in general, pop music has a stereotype that it's disposable and there's no substance there. I think that's true with some songs, but I'm looking forward to introducing to the world the entire body of work I've been creating, because I feel like there's a lot of depth to this record and there's a lot of songs that I'm really proud of and hope stand the test of time. I think pop doesn't have to be just disposable dance music, and even if it is, I don't think that's a bad thing. I think everybody likes to have a good time. But, there's some songs on This Is How Rumors Start that thematically run a little deeper, so I'm excited for that to come out.
Be sure to check out Jessie and the Toy Boys' official web site for all the latest news on This Is How Rumors Start. And watch the official video for "Let's Get Naughty" below!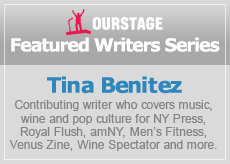 Taxi rides from east to west side; uptown todowntown, overlapping forty- to one-hour set times in Brooklyn and Manhattan, droves lined up to see the next big thing, open bars and deeply-discounted beers"this was the daily agenda for attendees at the 2010 CMJ Music Marathon.
Things moved expeditiously and, for the most part, the tightly-knit sets stayed on schedule from Tuesday through closing in the wee morning hours on Sunday. Wide-eyed by the first day and nearly trudging from venue to venue mid-way through the week, attendees and artists had their work cut out for them. This year, the CMJ Music Marathon was jam-packed with some of the most buzzed-about artists"most from New York"who had more multiple spots than last year, easing some of the timetable anxieties.
Bursts of electro and new wave pulsated throughout the five-day event. New York trio, BRAHMS, made the room dance from the moment they helped kick-off CMJ Tuesday night at a Piano's showcase. Singer Eric Lyle Lodwick darkly thumped through each track like Dave Gahan making BRAHMS a melodious addiction. The name Oberhofer could be heard here and there. Fronted by Brad Oberhofer, the subtle guitars, meshed with keyboard  have a few chiming hints of Vampire Weekend in tracks like AWY FRM U, off the band's debut, o0O0o0O0o, produced by Modest Mouse's Isaac Brock. Sydney's Cassette Kids, who now reside in Brooklyn, didn't fail to make patrons stir in and around their standing-room spots as vocalist Katrina Noorberger, like a willowy Terri Nunn, commanded the stage with her dirty dance-rock beats.
Out-of-towners brought as much hype to the daily time slots. Boasting five CMJ gigs under their belts, Newport Beach, Calif.'s Young the Giant offered their soul- and synth-fused set with tambourine-slapping Sameer Gadhia evoking some murmurs of Brandon Flowers vocals. A New Zealand Showcase presented an electronic beat down from Bowie-loving, petite powerhouse Zowie and the more Scissor Sisters-ridden Kids of 88 while Robert and David Perlick Molinari  of French Horn Rebellion filled Santos Party House with whimsical, electro beats (French horns included) as one of the last to perform Sunday morning at 1:30 AM.
A mix of dance, rock and DJ sets took place the final two days at the FADER Fort, reminiscent of a rave house, and some surprises filled in the week, including Phoenix, housed in a packed Madison Square Garden with surprise guests Daft Punk. A rumored turned confirmed appearance by Kanye West with new artist CyHi Da Prynce at the Brooklyn Bowl Fool's Gold Records Anniversary Party heightened the end of the fest by Saturday night. Here's to CMJ 2011.
Kanye West Live at CMJ via TimeOutNewYork
By Tina Benitez
Tina Benitez is a contributing writer, who covers music, wine and pop culture from her New York home office for publications like NY Press, Royal Flush, amNY, Men's Fitness, Venus Zine and Wine Spectator.