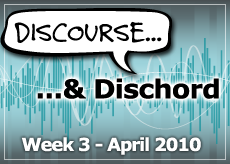 The Good
Cirque du Soleil to produce Michael Jackson-inspired show
Acrobats as zombies? Clowns as dancing gangsters? Neverland under the big top? OK, we'll get to the point. Michael Jackson's estate has teamed with Cirque du Soleil to produce a new show based on the King of Pop's canon. Described as concert-like, the tour is slated to start late next year in New York, and wrap up in 2012 with a permanent production in Las Vegas. Want tickets? Get your tent and start camping now!
The Bad
Carrie Underwood gets phone call in middle of acceptance speech
Somebody forgot to turn their cell phone off during this year' ACM Awards, and that someone happens to be ACM Entertainer of the Year Carrie Underwood. The country singer's phone started buzzing during her acceptance speech on Sunday. Who was the mysterious caller? Well, Underwood didn't answer, but our money is on Papa John's.
The Ugly
Rihanna injures ribcage, carries on show
Rihanna was taken to a small clinic on Monday after injuring her rib during a concert in Zurich, Switzerland. Doctors didn't find any issues, and to prove it, they let Ri-Ri climb back on stage on Tuesday and Wednesday night for two concerts in France. Which leads us to believe that it's wasn't an injured rib so much as a really tight corset. Bam!
Miscellany


The Good
New MGMT song, gratis!
For those who got MGMT fever listening to their vocals on Kid Cudi's Pursuit of Happiness, the wait is (almost) over. Today MGMT released the first track off their upcoming surfer pop album, Congratulations. This one is called Flash Delirium and it is available FREE FOR DOWNLOAD on the band's Web site. Dance, little children, dance.
The Bad
Sparklehorse's Mark Linkous takes own life
The music industry lost another world-weary hero this week. First Vic Chesnutt, and now Mark Linkous of Sparklehorse" a frequent Chesnutt collaborator. Linkous reportedly died from a self-inflicted stab wound outside a friend's home in Tennessee. As Sparklehorse, Linkous released 4 studio albums (with a 5th on the way), toured with Radiohead and collaborated with the likes of Tom Waits, PJ Harvey and, most recently, Danger Mouse. The duo was entrenched in a legal dispute with Danger Mouse's record label, EMI, for the rights to release their album Dark Night of the Soul, but had recently reached an agreement.
On a personal note, I interviewed Linkous after the release of his stunning 2001 album, It's a Wonderful Life, at his farm in Virginia, and found the man behind the musical genius to be a quiet, gentle soul who entertained all my fumbling questions with grace and kindness. R.I.P., Mark.
The Ugly
Bieber rips off Raaaaaaaandy?
Could it be true? Through his alter ego, Raaaaaaaandy (yeah, that's 8 A's), comedian Aziz Ansari has accused Justin Bieber of ripping off his song Baby, Baby in the teen idol's current hit, Baby. According to the re-enactment footage, Bieber stole the music and lyrics after pistol whipping poor Raaaaaaaandy in the studio. That's so Bieber! Check out the Funny Or Die clip here.
Miscellany
¢ Wayne Coyne wants Justin Timberlake for new Flaming Lips movie
¢ D'Angelo goes to the clink for soliciting sex
¢ T.I. back with new track, I'm Back
¢ Lil Wayne gets sentenced (finally) to a year in jail
¢ Eminem & Lil Wayne video for Drop the World
¢ Jay Z documentary in the works
¢ Mary J. Blige gets the led out with more Zeppelin covers