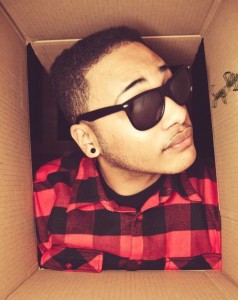 OurStage artist Jitta On The Track has been making big waves since he won the OurStage "Rise" Competition and landed a coveted opening slot on Drake's Club Paradise Tour. He's since been signed to DAS Communications, the management company that has handled artists from Ke$ha to The Black Eyed Peas, and has even been featured on MTV News and Vibe. And judging by the official announcement of his upcoming album's release date, it looks like he's keeping in close touch with some of the buds he made on tour. In a brief announcement from the set of the "Alphabet Soup" music video, Jitta tells us that the album is going to drop on Thanksgiving Day and teases some of the artists who will have feature spots. He's censored some of the bigger names to keep them secret, but we think we can make out at least J. Cole and French Montana, both of whom he met on The Club Paradise Tour. Sure helps to have friends in high places, doesn't it? See if you can guess who the other spots will be!
More like this:
Hip-hop artist Jitta On The Track has proven just how powerful an OurStage opportunity can be. Back in May, Jitta was selected as the winner of the "Rise" Competition, and immediately hit the road. Traveling in style on his OurStage.com customized tour bus, he joined Drake, J. Cole, Waka Flocka Flame, and more of hip-hop's finest on the Club Paradise Tour. Jitta opened 22 shows of the tour, hung out with his favorite artists and performed to thousands of new fans for an entire month.
This opportunity launched him from Connecticut's most promising up-and-comer to an artist recognized by the likes of MTV News and AllHipHop.com. In fact, while on the road, Jitta was able to sign a deal with industry heavyweights DAS Communications, the management team responsible for breaking artists like Ke$ha and The Black Eyed Peas. We look forward to seeing this ambitious young artist continue to do big things in the years to come!
Check out this recap of Jitta's incredible experience on the Club Paradise Tour: