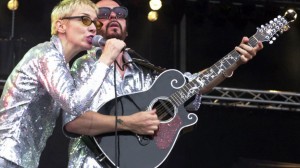 On February 9th, CBS will air The Night That Changed America: A Grammy Salute to the Beatles, to commemorate The Beatles' legendary first appearance on The Ed Sullivan Show. The show will be taped on January 27th at the Los Angeles Convention Center, and will feature an all-star lineup, including Maroon 5, John Legend, John Mayer, Keith Urban, and, reunited for the first time since 2005, The Eurythmics. Dave Stewart and Annie Lennox, whose string of hits in the 1980s as The Eurythmics place them as one of that decades most celebrated acts, last collaborated on two new tracks for a greatest hits album called Ultimate Collection.
How any of these artists reflect the legacy of The Beatles is a mystery that might puzzle historians for generations to come, if this were anything more than a ratings grab that will be forgotten almost immediately after it occurs.
Grammys producer Ken Ehrlich will also helm this special. "When it came around to booking this show, what I felt was important was to try and find those artists who not only would be able to interpret Beatles songs, but would also have an … understanding of what they meant," he said, still not explaining how those thoughts relate to the artists he ultimately selected. I guess they're all Grammy winners?
I'll probably be watching though. The Eurythmics were a good band, really, and I'm interested to see the others' takes on Beatles songs, though I hold out more hope for some than others. (h/t CoS)
More like this:
The EditoriaList: Best And Worst MTV VMA Performances
Daft Punk and Kendrick Lamar Will be Among GRAMMY Performers
Sound And Vision: Why Bieber Fever Can't Touch Beatlemania?
A new supergroup is on the horizon, but "new" isn't really the right word" the band has been recording its debut album in secret for the past eighteen months. The seed was planted by Dave Stewart two years ago, when he called up Mick Jagger and proposed the idea of fusing several different genres together. After some brainstorming and a few phone calls, they picked up Joss Stone, Damian Marley and A.R. Rahman to complete the spectrum. We don't have any doubt that people are intrigued by this illustrious medley of musicians, but let's face it: Jagger isn't exactly known for playing nice with others.
We could have called this article "When Egos Collide," but then again, none of these guys are notorious egomaniacs with the exception of Jagger. Rahman, considered "the world's most prominent and prolific film composer" by Time Magazine, has been quoted saying "[T]here is only one of the two that can reside in our heart: God or ego. If God is in, ego is out." Jagger, on the other hand, has been quoted saying "Obviously I have this sort of strange animal magnetism. It's very hard for me to take my eyes off myself." Let's not be too judgmental, though, because the quote's taken out of context and there's a good chance that he's kidding around anyway. But what about his lifelong friend Keith Richards, who refers to Mick as "her majesty" and "unbearable"? You could chalk it up to jealousy, the nature of their relationship or even argue that Mick has earned the right to act the way he does, but come on, it's pretty obvious that there's some truth behind the words. Either way, it's going to be interesting to see if he can share the stage with four other music heavyweights.
It's still unclear if the supergroup, called "Super Heavy," will have a definitive frontman or not. According to CNN, Jagger is excited about having four vocalists in the band because it gives him a chance to play other instruments, as well as alleviate some of the dependence on him as a singer. The issue probably won't come up anyway, unless the band goes on tour, but touring certainly seems like a possibility. "I think if we're rehearsing and it sounds great and people love the idea then nobody would rule out the possibility of it," said Stewart. But it's hard to picture Mick giving up his share of the limelight for the likes of Joss Stone, Damian Marley or anyone else for that matter. In the meantime, the album is recorded, as well as their first video, and it looks like they're planning a release around September.

The Good
Timberlake and Samberg edify audiences about The Golden Rule
What would a Justin Timberlake hosting gig on SNL be without a digital short with Andy Sandberg and some Cross Colours overalls? This latest masterwork introduces the helicopter technology into the art of lovemaking, and includes a very special musical guest. Oh, and if you stick around after the video is over, you'll get to see Michael Bolton dressed as a pirate.
Mitch Winehouse resurrects music career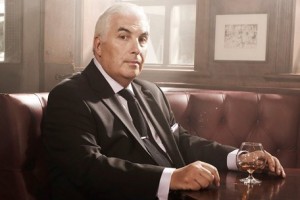 Mitch Winehouse, or Amy's pop, is returning to a music career he left in the ˜70s in order to raise his children. The 61 year-old cab driver just released Rush of Love on Janey Records. The record features covers of jazz and lounge songs and four originals. None of which include the lyrics, I tried to make her go to rehab and she said no, no, no.
The Bad
Beyoncé takes a page from Lorella Cuccarini for BMAs
Beyoncé took some heat this week when it was discovered that her multimedia performance at the Billboard Music Awards was suspiciously similar to a performance by Italian pop star Lorella Cuccarini. Beyoncé responded tout suite, saying she had seen Cuccarini's performance and contacted the producers to collaborate with her on her own interactive video. Personally, we like Beyoncé's video piece more, but with a hook borrowed from Major Lazer and a performance borrowed from Cuccarini, you can hardly call her innovative on this one. You can watch the two videos side by side below, thanks to the magical powers of the Internet.
Taylor Swift releases video for The Story of Us
Awkward run-ins with an ex are a rite of passage, one that's captured by Taylor Swift on her new video for The Story of Us. The track is rumored to be inspired by her messy break-up with John Mayer. Hang down your head, John. Voyeurs can check out the video below.
The Ugly
Joseph Brooks commits suicide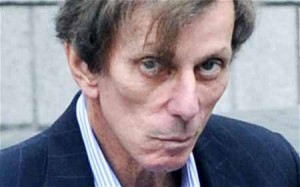 Oscar-winning singer-songwriter Joseph Brooks, famous for his perennial ballad You Light Up My Life, died this week in what has been ruled a suicide by asphyxiation. Brooks was set to go to trial for thirteen counts of rape at the time of his death. He was 73 years old.
Mick Jagger forms supergroup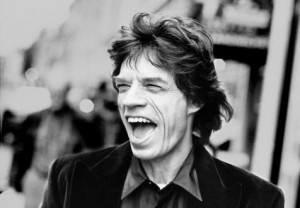 What do you get when you put Mick Jagger, Dave Stewart, Damian Marley, Joss Stone and A.R. Rahman in a room? Urdu-reggae-soul? Rasta-Bolly-Brit? We'll all find out soon enough when the supergroup, dubbed Super Heavy, drops their LP in September.
Miscellany