published by
kateb
on
February 26th 2010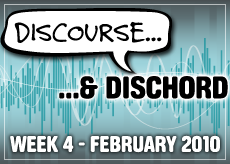 The Good
David Byrne uses Philippine dictator as inspiration for new album
Rarely have the words Imelda Marcos and good been used in a sentence together, but we're going to take a shot at it. David Byrne's new concept album, Here Lies Love, is inspired by shoe fetishist/dictator Imelda Marcos, and it sounds GOOD. Byrne co-wrote the album with Fatboy Slim, and recruited a different female vocalist for each track. Among them are Santigold, Roisin Murphy, Sharon Jones, Alice Russell and Tori Amos. The album drops in early April. Read more about it here.
The Bad
Nickelback's sour response to Facebook pickle group
If you spend any time on Facebook, you've probably seen news feeds for the group Can this pickle get more fans than Nickelback? The answer is yes. As of Wednesday, the pickle had 1,488,589 fans whereas the band had a mere 1,422,807. Well, singer Chad Kroeger didn't like that one bit, and left a tart comment that read, You're page will be closing in 2 weeks. Coral Anne, the creator of the pickle group, replied, I still whooped your ass, Chad! Yeah, no one likes a pickle puss, CHAD.
The Ugly
Whitney Houston angers Aussies with Brisbane performance
A croaky and disoriented Whitney Houston received dismal reviews for her performance at the Brisbane Entertainment Centre on Monday. According to multiple critics and fans, the 46-year-old singer appeared out of breath throughout the concert, coughing through some numbers and turning the epic high point of I Will Always Love You into a breathless coo. Houston has a handful of dates left in Australia before she heads over to Europe for more boos shows.
Miscellany