OK, so I think we can all agree that getting a closer look into the lives of our favorite celebrities is pretty awesome. Whether or not we choose to admit it, most of us have that one famous person (or maybe more) who keeps us fascinated with every tiny detail of their life. The wonderful world of Twitter has made it incredibly easy to stay up-to-date"no  paparazzi or gossip magazine required. Celebrities simply share what they want to share, and we eat it up. Sometimes they'll even respond to their followers and answer their questions! It's all good fun, except when it's not. It looks like some celebrities, especially musicians, just aren't ready for the responsibilities of being famous and having all of this technology right at their fingertips.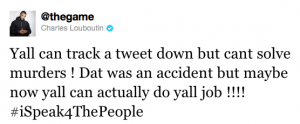 Most recently, rapper The Game sent the tweet heard 'round the world, causing so much chaos it almost got him in trouble with the law. His Twitter posted a phone number, telling his close to 600,000 followers that they should call it for an internship opportunity. Well, turns out the phone number was for the Los Angeles Sheriff's Department and they were not happy; rightfully so, considering their phone lines were jammed for a couple of hours. The Game claims that someone hacked his account, but then went off on a rant about the police, saying "Yall can track down a tweet but cant solve murders !"  The department planned to file a complaint but later decided against it after The Game gave a public apology.
M.I.A. is another celeb who recently took to Twitter, but ended up offending her own fans. In the wake of the London riots, she tweeted that she was "going down to the riots to hand out tea and mars bars". Fans who follow her on the site replied with upset comments, not happy that she was supporting the violence.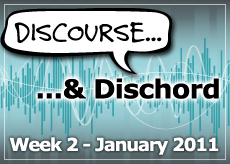 The Good
Kanye's Monster gets the Muppets treatment
Watching the Muppets rap Kanye West's Monster is both hilarious and distressing. Count Von Count opening with Bitch I'm a monster / No good bloodsucker is entirely apropos, but then when Beaker delivers the line about the you-know-what in a sarcophagus you can almost feel your entire childhood imploding. Watch at your own risk.
Josh Groban sings Kanye's tweets
It's a very Kanye Friday everyone. Before you cry Enough! be sure to watch this one last clip. GRAMMY-winning singer Josh Groban put all of Mr. West's tweets to music for a bit on the Jimmy Kimmel Show. If you thought they sounded ridiculous in cyberspace, just wait. Our favorite aria has to be I make awesome decisions in bike stores. Find out what yours is by watching the clip below.
Love is in the air ¦ so is anti-love
The celebrity musician zeitgeist got a workout this week with multiple hook-ups and break-ups. In one corner we have Kelly Pickler and Carlos Santana getting hitched (not to each other) and Selena Gomez getting with the Biebs. In the other corner, John Mellencamp announced his divorce from Elaine Irwin and Taylor Swift and Jake Gyllenhaal split. Love wins by a hair (a Bieber hair, the most powerful kind).
The Bad
Chuck Berry collapses onstage during Chicago concert
Chuck Berry collapsed onstage in Chicago on New Year's Day as his guitar was being tuned before the show started. After being rushed off stage, the 84-year-old legend returned 15 minutes later and tried to pick up his guitar to play. A man approached Berry and escorted him back offstage. Finally Berry returned to apologize to fans for being too weak to perform. They're afraid I'll do my scoot, he explained. Berry's rep later reported that the singer was suffering from exhaustion.
The Ugly
Will Oldham attacks Bill and Melinda Gates Charity Foundation
Bonnie Prince Billy wasn't so bonny in an interview with Fogged Clarity this week. The man behind the alternative folk act, Will Oldham, had a lot to say about the ulterior motives behind Mr. and Mrs. Gates charity efforts. His take on Bill Gates thought process went thusly: I want to eradicate cholera, so I can get another motherfucker to buy my computer. We're not sure that third-world kids will be rushing to the nearest Best Buy to buy a Dell, but what do we know?
Courtney Love's tweets lead to defamation lawsuit
After Courtney Love was asked to pay up for custom clothing made for her by designer Dawn Simorangkir, the singer reacted with her characteristic grace, calling the designer a drug-pushing prostitute on her Twitter page. Now Love is being sued for defamation of character. The trial is set for February. Hope one of those bespoke garments is proper courtroom attire.
Miscellany