A funny thing happened when Don DiLego sat down to record a new album"he found he had written two.
The singer/songwriter who you likely know from his songs that have been featured on such television shows as Dawson's Creek and Roswell and various films has just released  the Western & Atlantic EP. Working with Colin Killilea (Pocketknife), Marwan Kanafani (City Breathing), Erik Olsen (DiLego's longtime writing partner), and Gregg Williams (Dandy Warhols, Sheryl Crow), the result is a stroll back to the Johnny Cash, Glen Campbell sound that intrigued DiLego as a child. Perhaps that's not surprising when you consider Rolling Stone dubbed him "alt-country's next poster boy."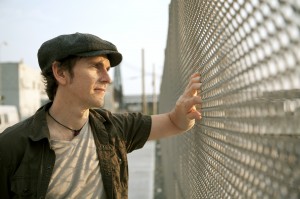 "Just this morning I was watching 'Walk the Line' [the 2005 biographical drama about] Johnny Cash," he said when asked about his decision to gather all the players in a studio and record Western & Atlantic live except for minimal overdubs. "It is only in today's era that having recorded everyone live [while the players are] together means anything. In the history of music, that was just the way you recorded things."
Not that DiLego is that far away from the roots of country. After all, he and musical partner Bree Sharp have a loyal following for their folk, alt-country duo Beautiful Small Machines. In fact, the duo's recent cover of a banjo version of MIA's "Paper Planes" was just selected as a Top 5 Pick of the Week by The Guardian of London. But in order to juggle his hectic musical schedule, DiLego will often use modern recording tools, like most other musicians, to finish a project. Perhaps the back-to-basics recording process for Western & Atlantic is what makes the early buzz around the EP so heartening.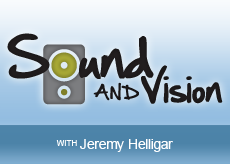 Love is in the air. I'm not just talking about that warm and tingly feeling that fills up the senses every year on February 14"if you're lucky enough to have your own funny Valentine. I'm also referring to the great 1977 Top 10 hit by John Paul Young, an immortal love song in a decade that was full of them. It's rhythm and romance at its catchy best.
In honor of V-Day, here are fourteen other great songs in the key of love. I've limited the romantic playing field to pop, rock and R&B singles from the last 50 or so years, leaving album tracks, country, jazz, the great American songbook, Beethoven, Liszt and Chopin for another list (maybe next year's). My favorites are always changing"by the week, by the day, by the hour. But if you're looking to set the perfect romantic mood on Valentine's Day, just let the music, this music, play.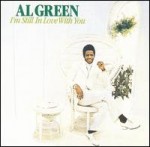 "I'm Still in Love With You" Al Green.
The greatest love of all is an everlasting one, and few singer-songwriters have nailed the subject as frequently and brilliantly as Green. This single, which went to No. 2 on Billboard's Hot 100 in 1972, is as timeless and immortal as the love it celebrates.
"The Air That I Breathe" The Hollies. "Sometimes, all I need is the air that I breathe, and to love you." Now that's crazy in love.
"Poetry Man" Phoebe Snow. It's hard to fathom that Snow, who also wrote this song, was only 23 years old when the song was a hit in 1975. Imagine any of today's twentysomething pop stars crafting anything so hauntingly gorgeous and grown up.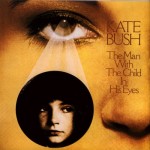 "The Man With the Child In His Eyes" Kate Bush.
A girl and her piano. Like the most effective love songs, there's an overwhelming aura of melancholy in both the production and 20-year-old Bush's vocals, which are at once delicate and sturdy. After the operatic weirdness of her 1978 debut hit, "Wuthering Heights," Bush floated back to earth in the most stunning way.
"Close the Door" Teddy Pendergrass. Sometimes it's all about sex. Incredibly, this 1978 single was the only solo Top 40 hit of the late Pendergrass's long career.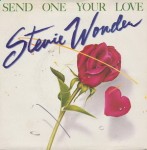 "Send One Your Love" Stevie Wonder.
Although this one has been more or less overlooked since it was a No. 4 hit in 1979, it's nearly as magical as "Knocks Me Off My Feet," an album track from three years earlier. A tip to all hopeless romantics: If you just called to say, "I love you," and you must do it with a Wonder song, make it one of the two.
"I Love You" Climax Blues Band. Everyone says, "I love you," but singer Derek Holt didn't until four minutes into the song"and then it was over. By saving the best for last on its 1980 single, which only went to No. 12 but was one of the biggest hits of the year, Climax Blues Band created a masterpiece of anticipation and romantic build up that goes out in a blaze of glory.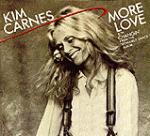 "More Love" Kim Carnes.
The irony! A songwriter as gifted as Carnes found her greatest success drastically reworking other people's music. Jackie DeShannon's "Bette Davis Eyes" may be the reinvention for which she's best remembered, but this cover of a Smokey Robinson oldie, which preceded the aforementioned hit into the Top 10 in 1980, is the one that gets under my skin and stays there.
"Love of a Lifetime" Firehouse. The ultimate hair-metal power ballad, from 1991, a few years after the genre peaked.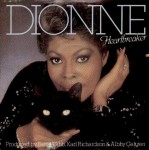 "Heartbreaker" Dionne Warwick.
Love is a beautiful thing indeed, sometimes even when it's in ruins. Of all the great love-song singles that the Bee Gees wrote for themselves ("How Deep Is Your Love," "Too Much Heaven") and others (Samantha Sang's "Emotion," Barbra Streisand's "Woman in Love," Kenny Rogers and Dolly Parton's "Islands in the Stream"), this one, in which sweet Dionne hints at possible stalker tendencies ("This world may end" not you and I"), is the one I always go back to.
"Harvest Moon" Neil Young. When I dream about love, this 1992 Neil Young masterpiece always seems to be playing in the background.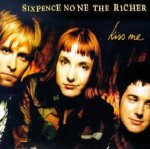 "Kiss Me" Sixpence None the Richer.
Michelle Williams's film career wasn't the only great thing to come out of
Dawson's Creek
. After the TV teen drama used "Kiss Me" on its soundtrack in 1999, it reached runner-up status on the Hot 100. More than any other song in the history of romance, this one makes me want to run out and fall in love.
"Can't Get You Out of My Head" Kylie Minogue. Sometimes the glow of love burns so much brighter with a fierce electro beat.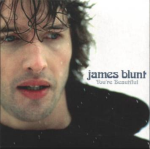 "You're Beautiful" James Blunt.
When it comes to love songs, they generally don't make them like they used to, but every now and then, modern love spawns an aural masterpiece.
Five Honorable mentions: "Angel" Anita Baker, "So Alive" Love and Rockets, "Love Is All Around" Wet Wet Wet, "Maps" The Yeah Yeah Yeahs, and "1 Thing" Amerie
What love songs will be on your playlist this Valentine's Day?