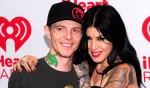 We love Twitter as much as the next person, but with the recent story of Kat Von D and Joel Zimmerman, AKA Deadmau5's Twitter engagement, it's hard not to be shocked. For starters, last we knew the couple had called it quits.
However, this past weekend Deadmau5 tweeted a photo of a diamond ring, complete with two skulls on either side of the stone, saying:
"I can't wait for Christmas so…. Katherine Von Drachenberg, will you marry me?"
Kat Von D quickly replied with a YES! before changing her own status to a series of exclamation points, and thanking fans.
"Mi corazon!!! Thank you all for the lovely congratulations!" Kat wrote. "Please excuse me while I go squeeze the hell out of my fiance!"
What do you think of the couple's engagement? Too soon? Let us know in the comments.
If you like Deadmau5 check out OurStage artist Circuit Assassins.
More like this: