What happens when you're an elite deathcore band that parted ways with the lead guitarist on the two records that catapulted you to the forefront of the genre? Well, if you're All Shall Perish, you get someone who is just as fantastically talented. Not long after releasing Awaken The Dreamers in 2008, the band said goodbye to guitarist Chris Storey, eventually joining forces with shred master Francesco Artusato for 2011's This Is Where It Ends. The change has had an enormous effect on the band's style, and it is clearly for the better.
All Shall Perish also teamed up with Sea of Treachery drummer Adam Pierce following the departure of longtime drummer and founding member Matt Kuykendall. Both Francesco and Adam do a wonderful job of filling some pretty large shoes for This Is Where It Ends. All Shall Perish's guitar work is far beyond one-dimensional. Opting for (and making great use of) 8-string guitars on some of the new songs, the range of style, technicality and heaviness is not seen very often in deathcore bands. At times slow and emotional, at others frenetic and groovy, there isn't a moment on the album in which the guitars are not ideal for the song.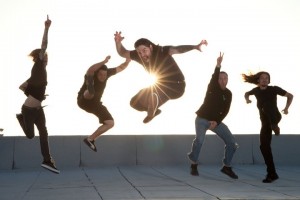 Beyond the new guitar and drum dynamics, Hernan "Eddie" Hermida's vocal work is his best yet. Lyrically interesting and perfectly enunciated, Eddie has set the gold standard for vocalists in modern extreme metal acts. His arsenal includes guttural lows, shrieking highs, bellowing mids and raucous yells"and just about everything in between. Most importantly, he knows exactly how to use them.
Picking a weak track on the album is nearly impossible as This Is Where It Ends is one brilliant musical idea after another, all perfectly executed and strung together in an order that feels right. The few moments in which All Shall Perish aren't melting your face or working to incite all-out riots in the mosh pit are much needed and welcome transitions between ideas and sections of the album.