David Mayfield needs to come with a warning label.
Anyone who has attended one of this season's music festivals and been lulled into the mind-numbing sameness of some performers will want to buckle up before Mayfield blasts onto the stage. Not only is his music a high-powered, joyous Americana with a dollop of rock, but Mayfield's bouncing enthusiasm"jumping into the crowd, prodding them to join him in song"is beyond infectious. Think a Jack Black persona with first-rate Americana folk rock and you're on the right track. Perhaps that's why Mayfield is about the only person who may be surprised at his success, which includes recently raising double the cash he sought to fund his next album.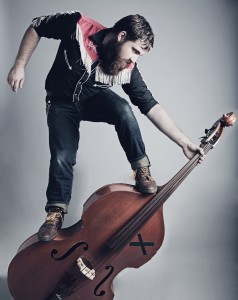 "I had no idea the first one would be so well received," said Mayfield of his first album. "I've had lots of fans tell me that they proposed while listening to "Breathe of Love" or walked down the aisle while it was playing. I feel like it's almost out of my hands now. I talked to [the Avett Brothers'] Seth Avett and he told me at some point, you will write something from a personal place and people will relate to it and it will become theirs, too."
In a way, Mayfield has become part of the Avett success story, as well. It was the Avett Brothers"Scott and Seth"who "discovered" him when he was touring as the bassist for his sister Jessica Lea Mayfield. Soon Mayfield, who also wrote songs for Cadillac Sky, was sitting in with the Avetts at Bonnaroo and Merlefest. Not that the musical path has been completely smooth even for Mayfield, who was born into such a musical family and has found support among A-list musicians.
One reason Mayfield calls his group a "Parade" is that players tend to come and go. Sure everyone wants to play at such high-profile gigs as DelFest, which Mayfield and his players did after accepting a personal invitation from bluegrass great Del McCoury, but when the bar gigs roll around some players tend to drop out. But that doesn't stem Mayfield's enthusiasm in writing and performing his original songs not to mention an occasional cover or sitting in with Luther Dickinson or other A-list performers.