Perhaps more so than the last handful of years in metal music, 2012 has been pretty crazy, especially when considering the density of phenomenal albums released so far. In typical music fashion, there have been blockbusters, surprises, let downs, newcomers, and game-changers. Thankfully, most of the surprises (for me anyway) have been good ones. Many of the albums and bands covered below have already been featured in Metal Monday this year"if you're following along, then you'll be familiar with most of these acts already.
Both Cannibal Corpse and Dying Fetus released strong albums that largely feature more of the same from the two bands. Fear Factory's follow-up to Mechanize further cements their comeback, of sorts, and shows that they're still the same old Fear Factory. Shadows Fall dropped an album that doesn't particularly change their mold either, but is good none-the less. The real surprise from a more high-profile act was High On Fire, whose De Vermis Mysteriis was a huge step up from their last album, Snakes For The Divine. Job For A Cowboy's Demonocracy also featured more of the same, but a bit better this time around (not surprising, given the quality of the Gloom EP from a few months prior).
In the metal community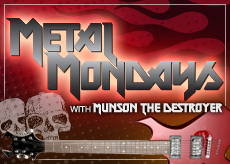 , the word "brutal" gets thrown around a whole lot these days. From the newest and most brutal breakdown from this deathcore band to the most garbled and brutal lyrics from that death metal band, the word is starting to lose its meaning. Then there's Adult Swim's cartoon series Metalocalypse, which really takes the idea of brutal to a hilariously extreme degree. In the first episode a large number of people at Dethklok's concert were scalded to death by giant vats of coffee"certainly brutal, but mostly just laughable. Here are five things that really examplify essence of metal, and can truly express what brutal means in a serious way.
The Oakland Raiders – First off, before we discuss the aggressive and brutal nature of American football, let's talk about what a Raider actually is. Dictionary.com describes a raider/raids as "a commando, ranger, or the like, specially trained to participate in military raids (a sudden assault or attack, as upon something to be seized or suppressed)." Loosely, this could describe metal musicians and their aural assault on listeners. Beyond what a raider is, the team dresses in all black and silver, as do their fans"again, much like metal musicians. It's really a perfect match made in hell.
Zombies – Although zombies are quite popular in mainstream cultures, no one has quite embraced the idea of zombies quite like modern thrash metal. Take the band Lich King, for example, and their album Toxic Zombie Onslaught. The idea and image of zombies are all over the metal scene, used by bands such as Iron Maiden with their mascot Eddie, Municipal Waste's album covers, or Death's song "Zombie Ritual".  The list goes on. Metal has unofficially adopted zombies as its mascot. We all know what zombies are, but let me reiterate: it was alive, now it's dead (sort of). Dead, decaying flesh that wants to eat your brains from your living skull.
Igor Stravisnky's Rite of Spring – Musically, Rite of Spring was one of the most heavy, erratic, and chaotic pieces of its time and continues to be so today. What really takes this comparison over the top, however, was the situation that arose when the piece was premiered in Paris on May 29, 1913. Due to the nature of the choreography and music, the audience became agitated and as the music escalated so did the audience's mood"eventually erupting into a full-blown riot in the seats. The riot got so out of hand that the Paris police had to arrive to settle down the audience. Further explanation is likely unnecessary, as your brain has probably already made the comparison of rioting at a concert to a mosh pit" certainly a logical step.
Barbecues – Step one: find a dead animal (more metal if you killed it yourself, even better if it was with your bare hands). Step two: make a fire, the bigger the better. Step three: let the animal carcass roast on that fire for a while. Step four: you eat it, and depending on the meat, you do so with your bare hands. Though grilling animals is a bit more sophisticated than it was in medieval times when vikings roamed northern Europe, the general principle still applies. Dead things, fire, and dead things on fire are all pretty cliché topics for metal at this point, and barbecues certainly fit that bill.
Slaying dragons – If you've heard more than three power metal songs in your entire life, there's a fair chance you've heard a song involving the slaying of a dragon or other evil and mystical creature. The idea of a knight in shining armor saving a fair maiden from a dragon is noble and all, but that is not a fair fight, nor would it be very pretty. It's a fair assumption that the dragon would breathe fire (since that's what dragons do, breathe fire and capture maidens), and the knight probably only has a sword, armor and a horse; advantage: dragon. Either way, one of these parties is dying, and in a pretty brutal way (scorched to death by fire or mutilated with a big honkin' sword). Power metal's not so much for wussies now, is it?
So, the next time you and your friends are hanging out and someone says "Oh man, that was brutal" or "That's so metal""think for a second. Was it really that metal?