Sometimes it's not what song you sing but to whom you sing it. And if Selena Gomez's new hit, "Love You Like a Love Song," is art imitating her love life, she couldn't have picked a better object for her affection than boyfriend Justin Bieber. Though the romance occasionally has been hazardous to her health–death threats from too-ardent Bieber fans and a recent mystery illness (she blamed exhaustion, the rumor mill churned out one about a Bieber bun in her oven)–it's also worked wonders for her career.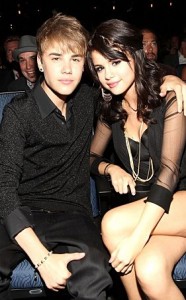 A quick recap of the life and times of the rising star: A few years ago, Gomez was just another Disney Channel starlet trying to make good on the pop charts. By this time last year, she was running neck-and-neck with Demi Lovato in a tween-and-teen-pop world ruled by Miley Cyrus. For anyone older than thirteen or fourteen, she was the one who wasn't dumped by a Jonas Brother.
But love changes everything. Though she's probably still best known as the girl who won Bieber's heart, Gomez is now solidly in the running for teen queen. Thanks to her Bieber connection, she's become a tabloid and celebrity magazine favorite and, with near-perfect timing, she's at last a true pop star. In the July 23 issue of Billboard magazine, her aforementioned latest single jumped from No. 66 to No. 35 on the Hot 100, and it's shaping up to be her biggest hit yet. Could nineteen-year-old Gomez have done it without Bieber, seventeen? Possibly. But he's guilty by association of helping to pave her way to possible multi-platinum status.
Gomez isn't the only singer reaping the benefits of high-profile love with a younger teen. Australian pop star Delta Goodrem, twenty-six, was virtually unknown in the United States until she began dating Jonas brother Nick, eighteen, in May. Though it's too soon to tell what effect it will have on her commercial potential in the US, there's no doubt that millions of Jonas fans who'd never heard of Goodrem back when she was engaged to Brian McFadden, the former member of the UK boyband Westlife who's now a judge on Australia's Got Talent (they announced their split on April 1), now know her name and her face.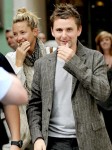 Muse's Matthew Bellamy was hardly unknown in the States when he began dating Hollywood star Kate Hudson, previously wed to Chris Robinson of the Black Crowes. But he'll no doubt have more to celebrate than fatherhood (to Bingham, his and fiancee Hudson's son, who was born July 9) by the time Muse releases its next album. Bellamy's increased visibility, courtesy of his significant other, could finally propel his band, which has yet to score a platinum album in the US and has had only one Top 40 single ("Uprising," No. 37 in 2009), into Coldplay territory.
Ah, Coldplay. Chris Martin needed Gwyneth Paltrow as much as Keith Urban needed Nicole Kidman, or Jay-Z and Beyonce needed each other (professionally, that is), but there's something about the meeting of two mega-superstars that almost always ends up boosting their careers to even more stratospheric highs (see Brad Pitt and Angelina Jolie, Brad Pitt and Jennifer Aniston, and Brad Pitt and, well, Gwyneth Paltrow). That's what happened with Tim McGraw and Faith Hill, who were both major hitmakers in their own right when they got hitched 1996. Since then, the supercouple have ascended to superstar status in tandem.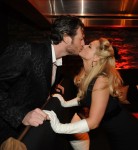 Blake Shelton and Miranda Lambert, who began dating in 2006 and married in May, are currently following their lead. She spent the last year winning pretty much every country music award in the business for her third studio album, Revolution. Meanwhile, he landed a new gig as a judge on The Voice, NBC's new hit star search; his first platinum single, "Honey Bee," became a No. 1 country and Top 20 pop hit; and his new album, Red River Blue, just became his first to top the Billboard 200 album chart.
Sure they were both doing just fine on their own, but like all successful couples, on and off the clock, they're even stronger together. May they all continue to prosper on the charts and love happily ever after.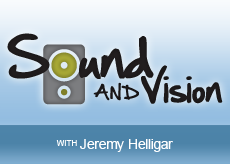 Maybe it's the fact that I'm several decades removed from my tween years. Or perhaps it was her sound, which, on her early hit albums, was a bit too
High School Musical
for my taste. Whatever the reason, I never quite got
Miley Cyrus
nor did I understand the haste with which she was able to turn a starring role in the Disney Channel sitcom
Hannah Montana
into international pop and film stardom.
She wasn't the first ambitious kid to ride Disney to the top.
Justin Timberlake, Christina Aguilera
,
Britney Spears,
Keri Russell and Ryan Gosling all got their starts on
The All-New Mickey Mouse Club
in the '90s, but it took them several years to parlay their Disney exposure into instant fame. Cyrus's 2006 rise, if not quite faster than a speeding bullet, was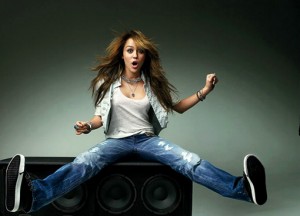 certainly more rapid than the ascent of Disney's
Lizzie McGuire
star
Hilary Duff
in the early '00s. Maybe the tweens were just desperate for someone new, and for a few years, Cyrus was
it
. Rising Disney starlets
Selena Gomez and Demi Lovato
were no match for her. She had hit albums and hit movies, sell-out concerts, massive media coverage, famous boyfriends (including"natch!"a
Jonas Brother
) and, until last January, Hannah Montana, the alter ego and the show.
Then Cyrus went and did the unthinkable: She grew up"way too soon.
Her 2010 album Can't Be Tamed introduced a sexier, worldlier and still-underage Miley. Critics and tweens cringed, and it promptly tanked. Bong hits and public lap dances did neither her image nor her bankability any favors. Then this past March, I was the one doing the unthinkable: For the first time, I found myself rooting for Miley Cyrus. All it took was TMZ's video replay of her run-in with a pushy paparazzo who got too close to her mom. As Cyrus forcefully told him to show some respect, I cheered and wished she'd channel some of this attitude and raw spunk into her work.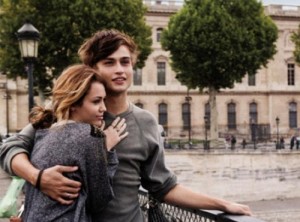 There might be hope for her yet. Though she announced after the release of
Can't Be Tamed
that she'd be putting music on the backburner for a while to focus on acting (she'll costar as Demi Moore's daughter in the forthcoming film
LOL: Laughing Out Loud
), Cyrus already seems to be eyeing a pop comeback. Though she has no current projects to promote, she was booked to host the March 5 episode of
Saturday Night Live
. Not only did she prove that she still has some Hollywood pull by grabbing the plum gig, but considering that
SNL
regularly lampoons her with the mock "Miley Cyrus Show" (on March 5, she appeared as
Justin Bieber
alongside Cyrus impersonator Vanessa Bayer), she's apparently a pretty good sport, too"plus she does a spot-on Bieber. She scored bonus points by mocking Lindsay Lohan and inciting yet another LiLo celebrity fued. And look what
that
did for Gwyneth Paltrow on
Glee
!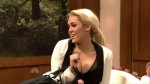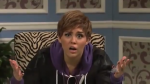 On April 27, Cyrus continued her climb back up the pop ladder with an appearance in the 
American Idol
performance package for sixteen-year-old Lauren Alaina, who had sung the Cyrus hit "The Climb" weeks earlier. (
Idol
mentor and music exec Jimmy Iovine offered a huge reality check, though, when he declared Alaina "a much
much
stronger singer than Miley Cyrus." Ouch!) Though she didn't perform, her appearance hinted at a renewed interest in her pop career. According to her dad
Billy Ray Cyrus
, she's met with
Dr. Luke
, the producer behind hits by
Britney Spears, Ke$ha
and Cyrus herself, so new music might be forthcoming sooner rather than later.
While Dr. Luke has an excellent track record (which includes Cyrus's greatest hit, "Party in the U.S.A."), I'm hoping she's gotten the pop tart bit out of her system. Can't Be Tamed already proved that no one is buying Cyrus as the second coming of Spears or any of those under-dressed female pop stars currently crowding the market. Unlike Lohan, there have been no arrests, no truly embarrassing moments. Cyrus's biggest sins so far have been making poor fashion choices and releasing bad music, so this, too, shall pass"if she's learned from her mistakes.
Next time, she should skip the skimpy. If she must embrace sexual liberation, she should do it with class"and better songs. She'll likely never get a return shout out from Jay-Z, but maybe she can team up with Jessie J, the rising, sort-of-edgy UK star who co-wrote "Party in the U.S.A.," for a sequel that'll convert her detractors and restore her V.I.P. platinum status.
Anneliese van der Pol is definitely enjoying her "Day in the Sun"… and the spotlight. You might recognize her from The Disney Channel's That's So Raven where she played Chelsea Daniels for more than 100 episodes, a record for Disney. This year, Anneliese finds herself moving from TV to Broadway while also maintaining her budding music career. In July, you can catch her in the musical version of the play, Vanities opening at the Second Stage Theatre in New York City.
On the music side of things, this red head from Amsterdam has certainly been busy. Her song, "Over It" was featured in the Disney Channel movie, Stuck in the Suburbs and she's been spending extra time in the recording studio working on prospects of a future record deal. She has also been charting in the top 10 in the OurStage Pop channel consistently since the new year. Currently, Anneliese is competing in the semi-finals for Pop… be sure to go judge and support her if you like what you hear!
Whether you are planning a trip to NYC to see Anneliese on stage or are holding out for her first full-length album, you won't be disappointed with what Anneliese has to offer. In the meantime, join Austrian artists Climax of Pleasure who commented that, "A day in the sun is a really cool summer song for us!" We couldn't agree more: