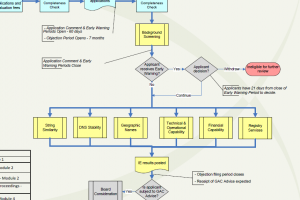 Every denizen of the Internet is well aware of ubiquitous domains like .com, .org, and .net. These are unrestricted generic top-level domains, or gTLDs, acting as a general organization system, by content, for every site on the Internet. Outside of these domains there are also a number of more specialized set of domains. These sponsored top level domains, or sTLDs"with extensions like .travel, .asia, .cat (not about pictures of cats), and yes, .xxx"are assigned by Internet Corporation for Assigned Names and Numbers (ICANN) through their subsidiary, the Internet Assigned Numbers Authority (IANA). Only certain cites can apply for and receive these requested domains. For example, you can't have a social network with the .asia domain unless the website is catering directly to an Asian audience. The question is why should this matter to you?
Occasionally, there will be calls to develop and provide new domains. Arguments can be made that the lack of usable domains across the net can stifle web creation. More domains should, conceivably, be a boon to websites looking to capitalize and appeal to a specific, niche audience.
Recently, the IANA has been mulling over the idea of releasing a new set of domains. During a four month period, various organizations could apply for a TLD at the low, low price of $185,000 per domain application. In late June, the IANA released a complete list of the proposed domain names along with the associated companies that are trying to get a hold of them. The list revealed, more than anything else, the companies that are trying to plant a digital flag in uncharted Internet territory.