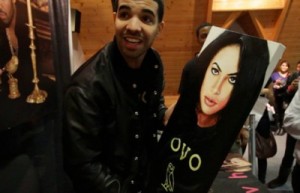 On Sunday, Canadian rapper Drake released a new track from the deceased R&B singer Aaliyah, who died in a 2001 plane crash in the Bahamas at the age of 22. The accident, while tragically cutting short her life, also cemented her legacy as one of the most influential and affecting R&B singers in recent history.
The song, "Enough Said," credited as "featuring Drake," really is an Aaliyah-centric joint. Drake only gets in a few bars while Aaliyah handles a couple verses as well as the chorus. The overall feel of the track is hazy and narcotized, thanks in large part to the efforts of frequent Drake producer Noah "40" Shebib. Suffice it to say, the song is more "Marvin's Room" than "Try Again."
It would appear that Drake's appreciation for the late singer is sincere. The release of the track comes quickly on the heels of news that he will be executive producing an upcoming posthumous release from Aaliyah. (Timbaland – close friend and collaborator of Aaliyah – is not currently attached to the project and isn't too pleased about it.) It also appears that the rapper got a second tattoo (a mashup of Aaliyah's birthday and his own hometown area code over his ribs to accompany the Aaliyah face on his back) in homage to the singer sometime over the weekend. This isn't a recent infatuation, either; Drake penned an open letter to Aaliyah back in 2010 and sampled her song "(At Your Best) You Are Love" for his Young Jeezy-assisted track "Unforgettable" that same year.
In short, Drake is officially the unofficial president of the Aaliyah fan club.
More like this: