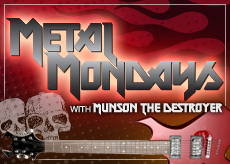 Metal is one of those genres that sends only a few bands to towering fame and worldwide notoriety. Dream Theater is one of them. While the band occupies more of the progressive side of the genre, they do so with energy and originality. Two existing members attended Berklee College of Music and one went to Julliard. Needless to say, these guys have chops. The Julliard alum is none other than versatile keyboard player Jordan Rudess. His intricate, tasteful and passionate performances not only add to Dream Theater's arrangements, but he also pursues his own solo endeavors. He's a prominate solo keyboard player who has been featured in Keyboard magazine, he's developed a relationship with numerous tech companies (even designing some gear) and is also a strong advocate of music education. Check out our Q&A with Rudess to hear his take on all of his projects.
OS: You played Summer Sonic this year. How long had it been since you played a major festival and what are you looking forward to most about this one?
JR: We'd never played Summer Sonic. I get the feeling that it's very different than anything else. We played at a lot of festivals this summer. We did some very big ones with Iron Maiden which were very fun. We played a festival in Ottowa for like 70,000 people. It was ridiculous. We played something in Montreal and Toronto. We had some great big festival shows.
OS: Dream Theater songs are usually quite complex and technical. What is the rehearsal/arrangement  process like?
JR: When Dream Theater gets ready to record an album, we record in a studio where we're able to set up all of our gear in a comfortable amount of space. It's usually pretty big because there are a lot of drums and a lot of gear. We just like to be in the room and hash things out all together.We'll bring in like seeds of ideas. There are three composers in the group: Myself, Petrucci and Portnoy. Together, we just make it happen. A lot of the notes and harmony are things that John and I will throw into the soup. Mike's talent is in the architectural realm. He's able to see how all these wild and crazy ideas can go together in an ingenious kind of way. It's a really cool system.
I'll throw in an idea, maybe 4 or 8 measures or something, and then we'll start playing it. Generally it'll lead to the next idea. Mike will say What if we put this riff behind it and play for another 8 bars while I turn around the rhythm. Rarely does anybody come up with something that's a full song.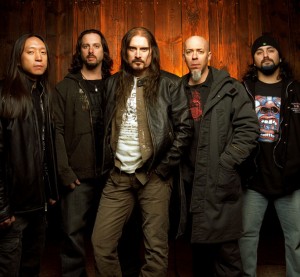 OS: Being such a technically driven band, your songs are a great fit for their Rock Band/Guitar Hero placements. How do you feel about their translation into the games?
JR: I'm not a big game player, but I think it's really cool that the game thing is what it is in today's world. First of all, it's a great avenue for a band like Dream Theater to get out there. When commercial radio has changed so much, we're looking for new opportunities to get our music heard and enjoyed. From that point of view, it's really cool. In the old days, you could rely on people buying things just to listen to. Now, they have this way to play along and become the guitarist, drummer or even keyboardist.
It's not something we think about when writing music at all. Maybe we're old school, but we just want to make good music. I do think it's pretty cool though. I know we all enjoy the idea that our songs are being used in those games.
OS:Dream Theater toured with Iron Maiden earlier this year. What was it like being on the road with these guys?
JR: Well it was a really great tour, and great for Dream Theater to be on that tour. Although we're popular in North America, it's not our strongest market. This was an opportunity to go and play for really huge crowds. Iron Maiden still sells tons of tickets. In the summer when the touring business was down altogether, Dream Theater did amazingly well with Iron Maiden on the road. Every night was pretty much sold out.
OS: Yeah you guys are definitely a notable metal band too, but a different branch than Iron Maiden. Did you have a similar response?
JR: The response was really great. At times, you wouldn't even know that it was necessarily an  Iron Maiden crowd. It's not a typical opening act scenario.  It was cool. I think at times, we just had a lot of fans in the audience, but even if they were mostly Iron Maiden fans, it seemed they really liked Dream Theater. We played some of our most intense music, and were trying to deliver the goods in a small amount of time. So that's what we did. It went well, and the reaction was strong.
OS: Can you speak a little bit about the MorphWiz app that you developed for iPad and iPhone?
JR: My new app is called MorphWiz. It's an app for the i-OS- iPhone, iPad, iPod touch. My whole concept in creating it was to try and coordinate the worlds of audio and visual as one. It's based on the foundation of what I call a vertical grid, kind of like what I do with the continuum. You can play any scale, any amount of octaves on the screen, and each note is represented by a vertical line. So, you can get a lot of expression. For instance, you can start at the bottom of the line with virtually no volume, you can increase the amplitude by moving up the line. In that same way, you can control other parameters as well. Pitch is most often left to right. So you can have this really expressive interface.
The other thing that makes it cool is that it uses a kind of pitch intelligence that I've kind of developed over the years (starting by working with Liphol hawkin), which is a pitch-rounding system. Let's say you have a screen with a couple of different octaves, and you slide your finger on the screen, you get a smooth slide of notes. This system enables you to correct the pitch when you first touch the screen to the right note even if you're left or right of it. This can even happen once you stop your finger after the slide. This makes some very expressive styles of playing.
People think of the iPad or iPod as  a fun toy, or a cheaper type of instrument. MorphWiz, I feel, is setting the foundation for the future of what we think of as electronic instruments. This whole idea of a touch screen as a means for new types of expression is really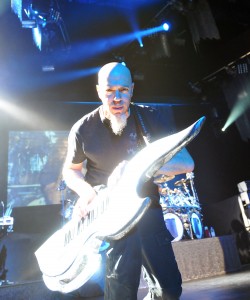 OS: You often release educational DVDs and books. Does these teaching goals stem from your early, classical origins?
JR: Yeah I think that's definitely part of it. I come from a pretty formal education. I went to Julliard, I was there from the age of 9 until 19. It was a very unusual path. I was going to be a classical pianist. Then when I was 16-17, I started to really discover other choices. The classical thing wasn't really my interest. I was starting to get into synthesizers, but I didn't know how to apply my interests other than having fun. At some point I was like Well, this has been an unusual path, so I should let people see where I'm coming from. There's a bit of responsibility to share, because I wasn't very guided in my transition from classical to the more synthesizer stuff. There wasn't like a Berklee program like there is now. I feel like if there's some way I can share what I learned with other people then I'll do that.
OS: You have a huge presence in the gear community. Did this just occur naturally from all of your projects, or were these partnerships always important for you to include?
JR: I'm really interested in technology. When I left Julliard and I got involved with the Moog synth, it all started there. Now I'm constantly looking for ways to push the boundaries with music and visuals. Some people were like well why are you playing the iPhone, it can't possibly be ˜real'. I knew the second I saw the iPhone, there were going to be some really groundbreaking ideas to be fleshed out on the iPhone. I'm interested and I think there are some important things going on in that world. So, it leads me to a lot of gadgets, and things that make sounds.
The Microboards thing is an extension of what's going on with me. I have a G3 Disc Publisher at home. I can burn like 50 CD's at a time and they're all really well-printed. Just like I have a keyboard now that can make any sound you can imagine. I'm working on a concerto now and I'm trying to finish that. The relationship started a long time ago  In this case, we needed a solution when Dream Theater was in the studio to make CD's for everyone during rehearsal. Recently, I got in touch with Aaron Pratt, and asked what they had to help me get the job done. So that's when the G3 came into play.
OS: Cool. So you're working on a concerto right now?
JR: Yeah, in November I'm heading off to Venezuela to premier my new concerto. It's not done yet, but it will be for keyboard and orchestra. That's like the main thing on my plate right now. My general plan is to make a piece of substantial length, and it should be interesting.
If you missed the Iron Maiden tour or Dream Theaters' Japanese dates, stay tuned for Rudess' keyboard concerto as well as an announcement for some 2011 Dream Theater dates.