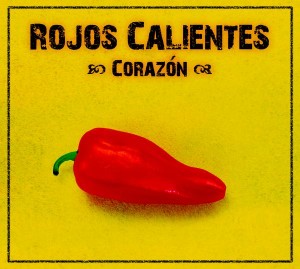 Every culture on the planet has some sort of musical history dating back centuries and, in some cases, rigorous ceremonial musical displays are still in place today. Yet while it's great for cultures to stay connected with their past through music, it's also nice to hear some musical crossover between cultures every now and then. OurStage artist Rojos Calientes does just that. Stemming from Peru to Montana to New Jersey and many places in between, this Colorado act creates a flavor of sound they call Latingrass, with influences bridging both sides of the equator. Having played numerous festivals in the West and opened for national touring acts the likes of Elephant Revival and Devotchka, Rojos Calientes seems destined to make an impact in one hemisphere or another. I recently sat down with Raul Quintanilla, Mike Huberman and Ryan Blizzard of the group to further explore the origins of this new sound.
AR: Raul, you've experienced a diverse spread of music firsthand. Who were some of your major influences in Peru and Montana?
RQ: I grew up in Peru listening to local music styles like, Huayno, Chicha, Salsa, Cumbia, Creole, Oop, etc., and I used to listen to a lot of classics of the 60's and 70's as well, especially the Beatles. In my teenage years I got into "Nueva Trova" "traditional music welded with socio-political lyrics" artist like Silvio Rodriguez and Pablo Milanes were in my tape player most of the time, and musicians/bands from Argentina like Leon Gieco and Sui Generis had strong influence in my generation. Months before coming to US a friend of mine got me a CD of Pat Metheny, who became one of my guitar heroes. Once in the US, I was introduced to the Grateful Dead and liked it, I could tell Garcia had strong folk influence, so I started to pay more attention to folk music, especially bluegrass. It was after I saw a concert of Hot Buttered Rum in Bozeman, MT, that I got more into it.
AR: Where do the rest of the band members come from? Influences?
MH: I come from NORTH Jersey, not the dirty south part… grew up listening to jam bands"Phish, Dead. Then I started listening to bluegrass in the last 10 years.
RB: I grew up in South Jersey. My parents (Old Hippies) were constantly listening to music. While most of my friends in school were listening to Dr. Dre and Snoop Dog, I was listening to Pink Floyd and the Dead. I went to college in WV. While there I started to get into acoustic music, mostly bluegrass, Americana and folk.
AR: What is Latingrass?
MH: Take bluegrass instrumentation (up-right bass, mandolin, guitar, fiddle), turn the fiddle into a viola, turn the bluegrass guitar into a nylon string classical guitar, then take North American folk styles and throw in South American chord progressions and top with some Spanish lyrics. Throw in a blender and poof.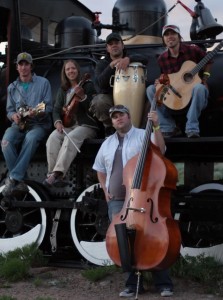 AR: Would you say you draw both musical and lyrical influences from South and North America? Or does it lean one way or another?
RQ: Musically it leans towards North American influence since 60% of the band is from the US. Hopefully it will get even with the addition of our new percussionist Pancho who comes from Mexico. Lyrically most of the original material is sung in Spanish.
AR: On OurStage, you describe Tantos Años as the song the started up the Latingrass thing. Where does the inspiration from this song come from?
RQ: Mike and I met jamming at open mics and one day he came to jam at my place with the song on guitar, played it for me. It had that sad and happy/jumpy feeling in it that I like in songs, which I saw metaphorically as a pillow for the crying I needed to do as I had just lost the girl of my dreams. So I put lyrics to it and something new came up. Memorable time.
MH: Musically it was me trying to write a bluegrass song that was not very bluegrassy.
AR: What's the musical atmosphere like high up in Rocky Mountains?
RQ: Music rules in Colorado. There are a lot of festivals going on; people always keeping an eye on festivals.
RB: No one is from here. It seems like everyone you meet up here has relocated from some other part of the country. Because of this the musical tastes are very diverse. Everyone is very receptive to all types of music.
AR: Has it been difficult for you guys to lock in without any percussion?
RQ: It was at the beginning, cause of the mix of styles.
MH: I do not think so, acoustic instruments are naturally percussive, in addition we make a conscious effort to fill in were necessary.
RB: Without a percussion player we have all had to be conscious and fill the space. I was surprised to hear how much rhythm Angie creates with the Viola. On recordings you would swear there is a wood scraper or something, but in reality it is just the viola. Since the release of Corazon, we have added a percussionist to the group (Pancho). His drumming is just as diverse as we are.

AR: What's the general vibe of your shows? Small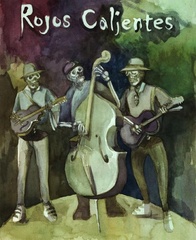 and laid back or can they get energetic?
RQ: It depends on the place. We are able to spice it up or chill it out as needed.
MH: It really depends on the venue and the crowd. We NEVER make a set list prior to a show. We try to play off the crowd. If it is a small venue and people want to sit and listen we have stuff that is on the chill side but very captivating (even though the atmosphere is mellow there is still a high energy in our performance). On the other hand if we are playing a rowdy bar and people want to dance we can turn it up a notch and BAM! Next thing you know people are hanging off the rafters! Just like our sound, our song catalog is very diverse and our live show reflects that.
AR: What's next in the works for Rojos Calientes? Any new albums coming out, tour dates?
RQ: We're trying to do a "Rojos en Vivo" CD with live performances, and I think we have material for the next one too. We are planning on touring soon at least within Colorado, and also working on being in major music festivals. We were very excited that we almost won the OurStage World Channel; it would have brought us the attention that we're looking for. People are looking for good, fresh music but sometimes is just hard to get noticed.
MH: We have been working on/writing new material for our next album. I would say we have more than half of it ready. We still need a couple more tunes, oh and some money! Playing shows continues, however we would really like to expand were we play by playing more extensively throughout CO and in the not-so-far future venturing out of state!