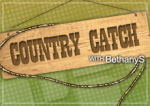 Canada not only produces great hockey players and delicious bacon, but also talented country singers. Hailing from our northern neighbor is Ontario-born Elyse Saunders. With a surprisingly soulful voice, this diminutive blond has the range and variety to make it big in country music. With a look like Miranda Lambert and Carrie Underwood but a voice like Martina McBride, Elyse has all the trappings of a star. Her set list includes soft songs like "Paris is Burning" to ditties like "What's Stopping You," and though simple, Elyse doesn't need the big frills of other artists. Her voice and song choice speak for themselves and "simply awesome" is the only thing coming to mind when it comes to Ms. Saunders.
"Bittersweet" is a song that's garnering huge success on OurStage for Elyse. And, while "taking the good with the bad" is a great way to live, there's nothing bad to cope with when it comes to Elyse Saunders! Check out her fanclub and enjoy!
Earlier this week, I wrote a blog about what country music is all about. Now I'm putting my money where my mouth is. The tracks on this playlist are not only fun and meaningful, they cover all the different tempos and topics that make country music so great! Some are upbeat and simple" just right for a car ride through the backwoods, or the long commute home on the highway. Other songs  really make you think about what's important in life, as all art should. Even if you're a little bit rock and roll, you should try some country on for size. Don't be shocked if you find you actually LIKE it!