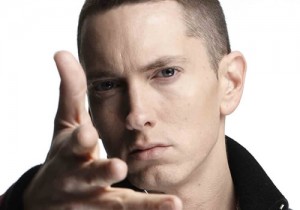 News flash! Eminem is really popular. But how popular is he, really? Sure he's won a number of GRAMMYs. He's scored hit after hit during a long, illustrious career that isn't over yet. The guy even had a movie made about his life in which he played the lead role, himself. But now we have hard numbers and metrics from social media, the true measure of popularity in our digital age.
According to Facebook tracking service PageData, Eminem has more likes then any other person on Facebook. 60.1 million likes to be exact. That staggering number puts him ahead of fellow pop stars – and plugged-in social media mavens – like Lady Gaga, Rihanna, and Justin Bieber, amongst others. And by others, I mean every single human in the world that isn't Marshall Mathers.
Eminem's spot as the top public figure on Facebook looks to be secure for now. The rapper has the 96th overall fastest growing like count as of press time, with nearly 27,000 new daily likes. That position puts him at the 5th fastest growing like count for musicians, bested only by Train, Pitbull, Adele, and Black Moth Super Rainbow (?!).
Eminem can also boast of having the 5th most liked page on Facebook overall, though it doesn't look like he'll get the most liked page any time soon. To do that he would need to surpass the pages for Youtube (61.3 million likes), Texas HoldEm Poker (63.8 million likes), Facebook (70.3 million likes), and Facebook For Every Phone (117.5 million likes). That's a lot of thumbs up.
More like this: