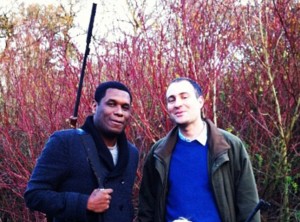 Jay Electronica has lived a crazy life. While that's a proclamation heard from many rappers, eager to share their story, very few have experienced anything close to the ludicrous highs and unfathomable lows he has. Electronica (real name Timothy Elpadaro Thedford) was born into poverty in New Orleans and also spent some time homeless in Brooklyn. But at the other end of the spectrum, he had a relationship with Erykah Badu, is currently signed to Roc Nation, and has released one stone cold classic single in the form of 2009's "Exhibit C."
And now there's another fascinating chapter to add to Electronica's life story. According to the UK press, the rapper is the wedge that has driven Ben Goldsmith and Kate Rothschild apart. For those not familiar, Goldsmith and Rothschild are both scions of two of the most historically powerful financial families in Europe. While it was reported that the couple had separated earlier this year and had at one point reconciled, it came to light early last week that Goldsmith and Rothschild were headed toward divorce. And that's when Jay-as-lothario entered the picture.
It's unclear how long their relationship was going on., but it's reported that Electronica first made contact with Rothschild when he came to London to complete work on his long awaited debut album. While Elect and Rothschild struck up a friendship based on their shared love of music – Rothschild runs her own record label – Jay was also friendly with Goldsmith, based on the photo of the two above.
Electronica has yet to chime in regarding the allegations of the affair.