Carly Rae Jepsen is in luck. It looks like she won't have to ensure the continuation of her celebrity run after Call Me Maybe falls from its current summit by relying on the hoopla generated by her own Nipplegate"nude photos that ended up being someone else's.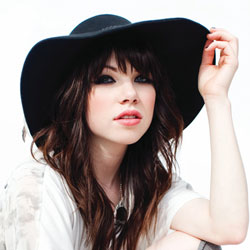 Thanks to a call from Adam Young, the one-man band behind Owl City, Jepsen is about to relight the fire under her rising star the old-fashioned way: with a new hit. "Good Time," her duet with Owl City, just debuted at No. 18 on Billboard's Hot 100, which means that her breakout No. 1 single won't forever be alone on her hit list.
It's pop symbiosis at its most effective: He saves her from that pop purgatory known as one-hit wonderdom, where he had been languishing since 2009, when the Owl City single "Fireflies" hit No. 1 on the Hot 100, and she helps get him out of it. Sure Katy Perry could have accomplished the same thing in the middle of a dead sleep, but that hardly would have been a meeting of near-equals.