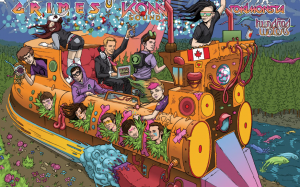 When was the last time you even rode a train? Think about that for a second and then consider the news that Skrillex, Diplo and some of their friends are touring in one?
Indeed, the Full Flex Express Tour is set to take the great white north by storm over the next few days. The six date run is going to hit every major market in Canada, starting in Toronto and wrapping up in Vancouver. The lineup, consisting of Skrillex, Diplo, Pretty Lights, Grimes, Tokimonsta, KOAN Sound, and Hundred Waters, is a stacked mix of the best and weirdest that the EDM scene has to offer. We even came across a computer generated simulation of what the tour will likely sound like.
But the whole train thing? What inspired this ragtag collection of DJs and producers (and Grimes) to traverse the great white north via locomotive?