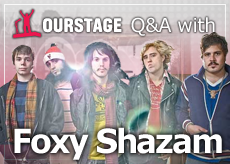 You can try, but you probably can't put an accurate label on Foxy Shazam. Their eccentric and eclectic mix of punk, soul and straight up rock 'n' roll has earned the band critical praise and performances at Lollapollooza, the Rock and Roll Hall of Fame and Reading & Leeds. Following a summer tour with Hole and the release of their smash self-titled album, the band recently finished a two-month cross-country stint with Free Energy and is preparing for another huge year in 2011.
One might expect that outrageously energetic 24-year-old frontman Eric Nally lives an equally wild life. On the contrary"offstage, he is a soft-spoken, friendly father of two. We had the pleasure of speaking with Eric about touring memories, writing with Meat Loaf, modern day rock stars and what it's like to lead a double life.
OS: You've just finished your fall tour with Free Energy. How were the shows and what were some of your favorite moments from the tour?
EN: We went to the UK for a week in between this tour and that was awesome. I loved that because we sold out London for the first time. It was big for me because we're from Cincinnati, Ohio and it's just really far from home. To sell a place out so far away is an awesome feeling; to bring your music to a different country and do that. I liked playing Montreal because Hollerado, the band that's opening on this tour, is from there. All their crowd was out and it was just really fun.
OS: Foxy Shazam is well known for its incredible, off-the-wall performances. What inspires the band to become so theatrical on stage?
EN: I usually tell people, "that's just the way we were born!" It's just natural to us. We  don't have to do any preparation or any pre-show rituals to summon these things on stage, they just come out naturally. It's just the way we came out of our moms, I guess. When I'm on stage, I'm an entertainer…when I'm off stage, I'm a spectator. So I just kind of sit back and watch and soak everything in. When I go on stage, I let it all out.
OS: You've stated that Foxy Shazam are "not concerned with what category it falls into." Do you often find that people are trying to fit you into a genre or compare you to other bands because they're not sure where to place you?
EN: Yeah, that happens all the time. Anybody I ever meet that's an artist…everybody wants to be themselves. But really, in the way that everything works now, it's just what people have to do. I accept that. Everything needs to be compared to something else just so you can wrap your head around it easier, I guess. Either way, I don't mind it, but people do try to compare or group us into a category. Every time it's different, so it's cool.
OS: You've said that you would never want to make the same record again and the evolution of the band's music has certainly reflected that. How do you see Foxy Shazam's music evolving in the future?
EN: I don't know…every record we make kind of stands for where I am at that moment. I'd have to kind of be in the moment to understand, but that's exciting for me. I really like not knowing. It's kind of cool to not think about it and not prepare.
OS: In the song "Wannabe Angel" from your self-titled record, you sing, "For you I wear this mask, at home I take it off." Is it difficult to transition between your life as a rock star and your life as a dad and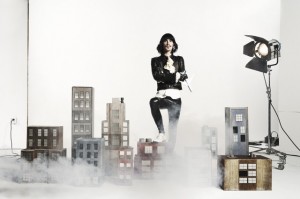 husband?
EN: Yes, that's exactly what I was trying to say with that. I feel like I'm a completely different person when I'm on stage. It's kind of like a Dr. Jekyll and Mr. Hyde type thing and that's awesome to me. It's like how actors do…entertainers, really. It's just who I am. Being a dad compared to being a professional touring musician…it's just the complete opposite end of the spectrum. I feel so different when I'm not on stage.
OS: Earlier this year, you helped write some songs for Meat Loaf's album Hang Cool Teddy Bear. What was your role in the writing process? Would you be interested in writing for other artists again?
EN: Absolutely! I love being associated with people that have rich history in music and Meat Loaf is obviously one of those people. I just co-wrote two songs with Justin Hawkins who used to be in The Darkness"he's one of my best friends now. It was just awesome. We went there together and we wrote together and sat with Meat Loaf. It was great, I made a lot of good friends through that whole experience.  A lot of the other writers that were there were a lot older and have done stuff like that before. That was something that I couldn't believe I was experiencing so early in my career.
OS: Are there any artists in particular that you'd like to write for?
EN: I would love to, whether it's writing or whatever, work with Cee-Lo Green sometime. I think he has the best voice in music right now. I think it's just awesome, it hits me in the right spot. It's the perfect voice for me. I'd love to work with him someday.
OS: Foxy Shazam was one of the first bands featured on ChatRoulette for album promotion, but you aren't a huge proponent of bands using social media. Can you share your thoughts on that?
EN: I feel like the rock star is kind of a dying breed, we're becoming extinct. You don't seem them very much anymore. I think one of the most important things about what that persona was, was that you didn't know them. It was almost like a mythical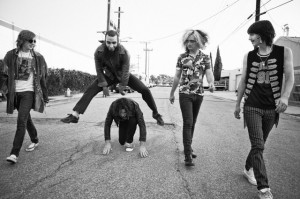 creature. People would gather backstage for hours just to catch a glimpse…and you don't get that anymore. People know everything that everybody does because of Twitter and Facebook and they're updating constantly. Everybody's so human now, I guess, which is fine. That's how it's always been, everybody's just a person. But I think there was this certain mysteriousness about the artist and that's not really around anymore. So I kind of try to keep that going. I think it's important to have people make their own stories about you rather than know the hard facts because chances are the hard facts are extremely boring (laughs).
OS: Foxy Shazam has recently announced some big touring plans for 2011. Can you tell us about the tours and festivals you'll be playing next year?
EN: In January, we have a tour with Circa Survive. That will be awesome because I've heard their new record is great. I haven't heard it but I'm really anxious to! I've heard a lot about that band and I know a lot of people who know them and they say they're great guys and that's really important to me, to share a tour with people that are nice. I'm really excited about that one, I think it will be awesome. Then we go to Australia [for the Soundwave Festival] in February and I'm really looking forward to it. I just love taking my music to different countries. I've never been to Australia, so it will be awesome. We have a bunch of days off in between the shows there so I'm going to do a lot of sight-seeing.
Check out this live video of Foxy Shazam performing "The Rocketeer" and don't miss them on their upcoming tour dates, listed below!
Dec 16 Detroit, MI – Shelter
Dec 17 DeKalb, IL – House Cafe w/Victorian Halls & 'Richardson' Richardson
Dec 18 Minneapolis, MN – Popsickle Festival w/Motion City Soundtrack, Minus The Bear & more!
Dec 19 Kalamazoo, MI – The Strutt w/Their Teeth Will Be of Lions
Jan 14 Richmond, VA " The National w/Circa Survive and Anberlin
Jan 15 Charlotte, NC " Amos Southend w/Circa Survive and Anberlin
Jan 16 Ashville, NC " Orange Peel w/Circa Survive and Anberlin
Jan 18 St. Louis, MO " Pop's w/Circa Survive and Anberlin
Jan 19 Omaha, NE " The Slowdown w/Circa Survive and Anberlin
Jan 20 Des Moines, IA " People's Court w/Circa Survive and Anberlin
Jan 21 Grand Rapids, MO " Orbit Room w/Circa Survive and Anberlin
Jan 22 Columbus, OH " Newport Music Hall w/Circa Survive and Anberlin
Jan 24 Cincinnati, OH " Bogarts w/Circa Survive and Anberlin
Jan 26 Baltimore, MD " Rams Head Live w/Circa Survive and Anberlin
Jan 28 Rochester, NY " Water Street Music Hall w/Circa Survive and Anberlin
Jan 29 Albany, NY " Northern Lights w/Circa Survive and Anberlin
Jan 30 Allentown, PA " Crocodile Rock w/Circa Survive and Anberlin
Feb 26 Brisbane, AU – Soundwave Festival w/Iron Maiden, 30 Seconds to Mars & more!
Feb 27 Sydney, AU- Soundwave Festival w/Iron Maiden, 30 Seconds to Mars & more!
March 4 Melbourne, AU – Soundwave Festival w/Iron Maiden, 30 Seconds to Mars & more!
March 5 Adelaide, AU- Soundwave Festival w/Iron Maiden, 30 Seconds to Mars & more!
March 7 Perth, AU – Soundwave Festival w/Iron Maiden, 30 Seconds to Mars & more!