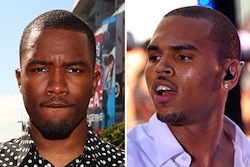 The internet was buzzing yesterday with talk of an altercation between Chris Brown and Frank Ocean at a Los Angeles area recording studio. Apparently, the two vocalists and their friends got into a scuffle over a parking space that eventually lead to punches being thrown. Now that statements have been taken from the majority of people (Chris Brown fled the scene and did not speak with police right away), it seems most signs point to Chris Brown having actually started the incident.
According to TMZ, the accounts being given to police claim that Brown threw the first punch after Ocean refused to shake his hand. This lead to the eventual scuffle between groups, but police say neither singer was involved in the larger incident.
Given the nature of the attack, Ocean may be pressing charges against Brown, which could create a very interesting situation given Brown's current probation. Reuters quotes Los Angeles County Sheriff's spokesman Steve Whitmore as saying that Ocean is desirous of prosecution in this incident," so it seems such action is imminent.
Chris Brown still has yet to publicly comment on the altercation, but he did post a painting of Jesus Christ on the cross to his Instagram yesterday with the message "Painting the way I feel today. Focus on what matters!" (more…)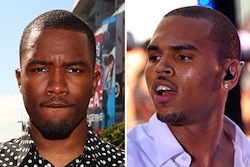 Well, this was unexpected.
TMZ is reporting that Chris Brown and Frank Ocean were involved in a fight at a Los Angeles recording studio last night following a dispute over parking. Apparently, Brown was at the studio working with an artist he recently signed, when Ocean rolled through and complained to Brown that he was parked in the wrong place. What followed exactly is unclear, but according to tweets from Frank Ocean (seen below) it seems Chris and his security jumped Ocean, with Brown landing at least one punch on the "Pyramids" vocalist. This is contrary to other reports, which claim Frank's guards were the first to start the fight. Police were called to the scene, but Brown left before they could arrive. Ocean stayed to answer questions, and as a result is currently being considered the victim in the situation.
Police are still hoping to speak with Brown about the altercation, but as of 8AM (EST) he had yet to step forward and cooperate. Stay tuned for further developments. (more…)
In Drake's verse on the new 2 Chainz single  "No Lie," which quite apparently references his on-and-off relationship with Rihanna, he raps "She came through, she brought food, she got fucked, she knew wassup." Essentially the same could be said about Chris Brown after he and Drake were allegedly involved in a fist fight about the Barbadian singer at an after-hours club in New York City late last night.
According to TMZ and Media Takeout, both artists found themselves in the same club, igniting past tensions over their shared romantic interest in Rhianna. This is where the story gets hazy. When Drake allegedly rejected a bottle of champagne that Brown sent to his table as a peaceful gesture, Brown supposedly confronted him and his entourage furiously. What followed was a chaotic scuffle of broken bottles, punches, and one serious gash to the face for Brown.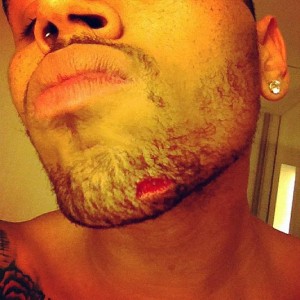 While club confrontations are nothing new in the world of pop stars behaving badly, Drake and Brown's bout of fisticuffs has provided some novel fodder for the Twittersphere. The beef between Drake and Brown has simmered for a while, and this is the first time it's exploded into a physical altercation. It's hard to predict how the rivalry will continue from here, but fans of both artists can at least hope for some great diss tracks to result from the incident. Sure, losing a chunk of his chin doesn't exactly make Brown 50 Cent, but that doesn't mean he can't milk it for all it's musically worth.