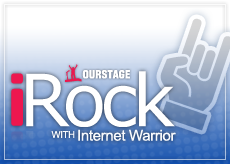 Generation Y (a.k.a. Echo Boomers) brought forth many new platforms of social networking with advancements in communications, media and digital technologies. As the world changes around us, music dramatically progresses with the births of new genres, new marketing strategies and, of course, the popularity of music videos. British synthpop/new wave group, The Buggles were right on the money when they recorded their debut single Video Killed the Radio Star in 1979. For the past few months music videos have been a hot subject for many of my friends in the industry. There's speculation that many artists who are able to put together a professional-looking music video have a better chance to become noticed. But before we go into a long discussion about this (which will be a Generation DIY topic in the near future), here's a list of music videos I found on OurStage that cover all the criteria I look for in a solid rock music video. Without further ado, this week's OurStage iRock artist music videos!
[playliststart] [playlistend]
You might have noticed the flurry of posts we've been churning out lately – The editorial team at OurStage has pushed the blog in overdrive and we're excited to share all of our latest news with you! In case you missed something (you mean you haven't set the blog as your homepage yet?), here's a quick recap to keep you up to date:

Noise Pop Announces Line-Up and OurStage contest winners:
The powers that be over at Noise Pop made their picks and we couldn't be happier for the winners: Scissors for Lefty, Kings and Queens, Harbours and Dizzy Balloon. Check them out and be on the lookout for more Noise Pop news¦ hint: these aren't the only OurStagers making their way to the Bay Area stages!

Williams Riley Band win American Country Countdown contest:
Just 6 months ago, this band didn't even exist! But, in that short time, they collaborated with guitarist Slash (Guns N' Roses), Edwin McCain and Bryan White and were featured on AOL's country music blog, The Boot. Now, they've won the ACC Top 40 Superstar contest on OurStage. Williams Riley's CD is on par with the major label releases coming out of Nashville, commented  Kix Brooks (Brooks & Dunn) the host of ACC Top 40. "Their song sounds great on the radio. They've got an exciting future in front of them.  We're proud our competition was helpful in getting them out the gate.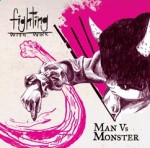 Free Download Available Now:
Fighting With Wire wants to hook you up with a completely free 5 song EP + the official music video for Everyone Needs A Nemesis just for signing up to the new Fighting With Wire mailing list. This is only available for a limited time, so be sure to download your free gift now.